The Nursing Virtual Health Library (Nursing VHL – http://bvsenfermeria.bvsalud.org/) has the mission of building a collection of scientific information on Nursing and facilitating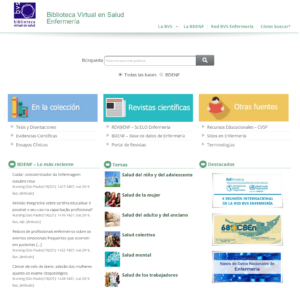 access to information, regardless of time, space and borders. The Nursing VHL aims to drive the processes of knowledge generation and dissemination, helping to improve nursing education and practice to achieve ethical and social commitment in education, research and healthcare.
This VHL was developed in a decentralized manner, with the participation of institutions from Argentina, Bolivia, Brazil, Colombia, Cuba, Mexico, and Uruguay. Each country is responsible for organizing and indexing their scientific production, which is then made available in the sources of information at the International Nursing VHL .
These sources of information include reference databases and directories with articles, theses, dissertations, events, websites, and other contents selected, assessed and approved according to the selection criteria established by the information network.
The two major sources of information for the Nursing VHL are BDENF – Nursing database that has 37 journals assessed and approved by the Journal Review Committee of the Nursing VHL, in addition to theses and dissertations, and REV@ENF – Nursing Journal Portal with 29 titles available in full text.
The International Nursing VHL started in 2005, when the first meeting to discuss its design was held in Salvador, Brazil. In 2012, in Coimbra, Portugal, the Term of Reference and Constitution was signed, providing its mission, objectives, and sources of information, as well as the decision-making and participation fora of the project. In May 2016, after going through restructuring, the portal was launched in Washington D.C., US, on the International Nursing Day.
Brazil VHL in context
The creation of the Nursing VHL was based on the Brazilian experience of developing the Brazil Nursing VHL (http://nursing.bvs.br/) in 2003. Today it relies on 13 Brazilian institutions, encompassing all regions of the country.
The VHL is coordinated by the Nursing School of the Universidade Federal de Minas Gerais, with the support of the Health Human Resources Unit of the Health Systems and Services (HSS) department of PAHO/WHO, and by the Latin American and Caribbean Center on Health Sciences Information (BIREME/PAHO/WHO).
According to Silvia Cassiani, Regional Advisor on Nursing and Health Technicians at PAHO/WHO, "the Nursing VHL is an important reference source for nurses, nursing students and other healthcare professionals, because it provides access to health information to support scientific evidence-based nursing and healthcare practice, thus, accomplishing education of competent and motivated human resources in a permanent way. It is a relevant contribution to nursing by three players and sponsors – the Nursing School of the Universidade Federal de Minas Gerais, PAHO and BIREME – providing countries with Universal Access to Healthcare and Universal Healthcare Coverage".