The Evidence-based Health Portal (PSBE) is an initiative of the Secretaria de Gestão do Trabalho e da Educação na Saúde (SGTES) of the Brazilian Ministry of Health (MH), which aims to incorporate evidence-based practice in the work process of health professionals and  scholars.
With the purpose of strengthening PSBE, the MH established, as from 2015, a technical cooperation agreement with the Pan American Health Organization/World Health Organization in Brazil (PAHO/WHO Brazil), with the participation of BIREME in the development and dissemination of the Portal, together with Unidade Técnica de Capacidades Humanas em Saúde at PAHO/WHO Brazil.
The PSBE contents are available to Brazilian professionals, scholars and students from 14 health topics: Biology, Biomedicine, Dentistry, Medicine, Nursing, Nutrition, Pharmacy, Physical Education, Physical Therapy and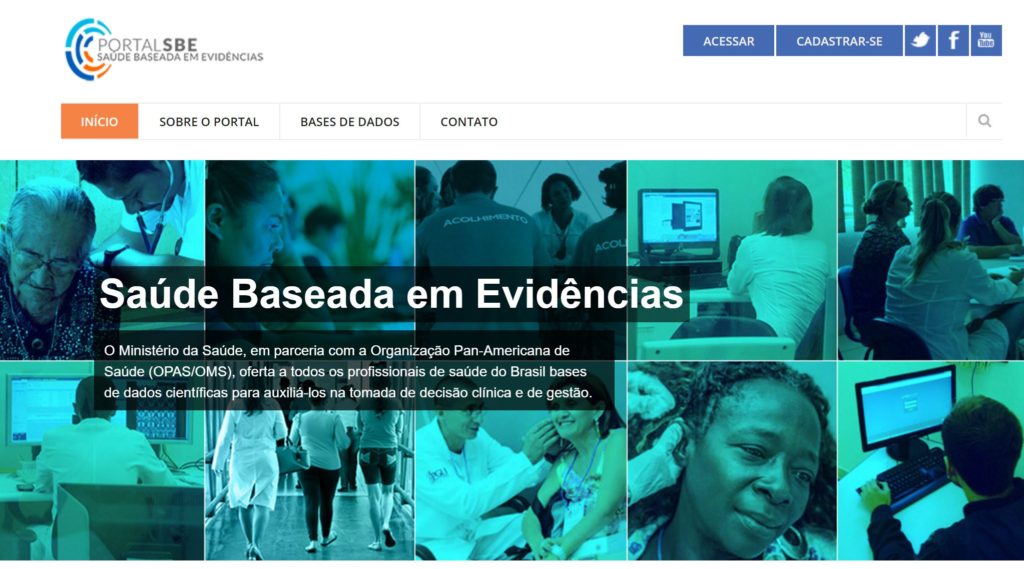 Occupational Therapy, Psychology, Radiology Technique, Social Work, Speech Therapy and Veterinary Medicine, including librarians of the health sciences colleges. Access control to different portals and open access databases is defined by membership at Professional Councils, through username and password. These sources include the Virtual Health Library (VHL), with an emphasis on Primary Care, Nursing and Dentistry, Epistemonikos, Electronic Instructions for Use (Bulário Eletrônico), PROQUALIS and REBRATS, as well as some restricted access sources, such as Dynamed, Micromedex, Nursing Reference Center, and Access Medicine.
One of the great challenges of PSBE is to enable access of users to contents of several sources of information, considering the different types of publication and the distinct interfaces of access to each portal or database. With the purpose of improving the users' experience and expediting access to information, BIREME/PAHO/WHO has developed a metasearch engine to search and retrieve, through a single search interface, information registered in different databases, using interoperability protocols and data exchange mechanisms. Thanks to the collaboration with the Universidade Federal do Rio Grande do Norte (UFRN), the metasearch engine was integrated to the PSBE and it is available to users since December 2016.
In the Strategic Action Plan to strengthen PSBE in 2017, training and dissemination activities are scheduled, through technical cooperation of BIREME/PAHO/WHO and PAHO/WHO Brazil, aiming to expand access and use of PSBE-related contents.
"There is a great opportunity to promote technical cooperation with other Latin American and Caribbean countries, using the experience of MH, PAHO/WHO Brazil and BIREME/PAHO/WHO, in the development and strengthening of PSBE as part of the national strategy to improve health care, by access to information and scientific evidence to all health professionals", stated Renato Murasaki, Manager of Information Methodologies and Technologies at BIREME.