This year, the virtual sessions organized by the LILACS team bring an innovative perspective. In the continuous quest to improve editorial practices and the quality of scientific journals in Latin America and the Caribbean, these sessions focus on crucial and current topics. Aimed at members of the editorial teams of Latin American scientific journals in Health Sciences that are already indexed in LILACS, that intend to be indexed in the database or that are in the process of being created, their objective is to promote knowledge of fundamental topics in scientific publishing to improve the quality, positioning and visibility of journals. Each session offers a unique opportunity for participants to engage with renowned experts, explore real case studies and exploit resources that can enrich their editorial practices. As of 2023, sessions include:
– Featured Speakers: Keynote presentations led by external experts, bringing valuable insights and enriching perspectives.
– Real Case Studies: Reports from journals indexed in LILACS, exploring key themes, and sharing practical experiences.
– Resource Exploration: Demonstration of LILACS/BIREME products and services related to the theme of the session, providing a more in-depth and practical understanding.
– In-depth Activities: Encouraging internal reflection and evaluation, helping participants to analyse how the session theme applies to their own journals.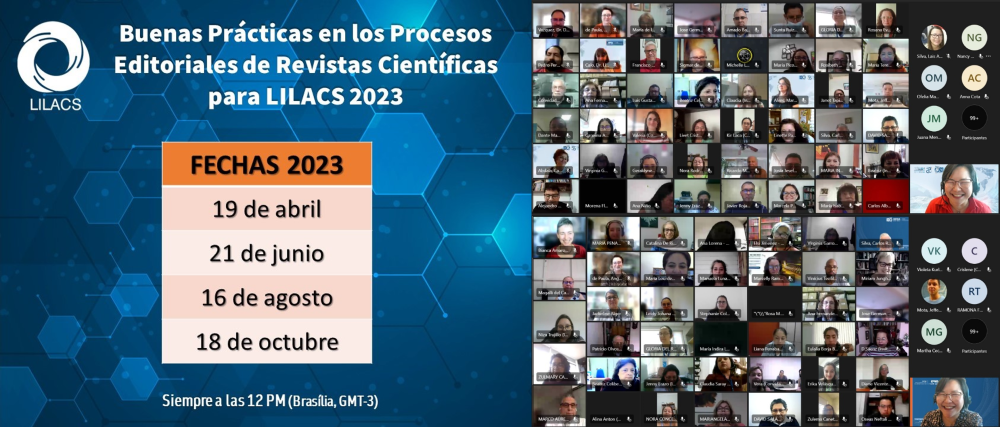 Session 1: Contribution of Scientific Journals to the Sustainable Development Goals (SDGs)
In the first session, held on April 19, 2023, Dr. João Paulo Souza of BIREME/PAHO/WHO presented the keynote address and opened the 2023 series. Dr. Damián Vazquez shared about the implementation of the SDG-3 targets in the editorial process of the Pan American Journal of Public Health. Dr. Lilan Calò presented the Advanced Course in Scientific Communication in the Health Sciences, while Sueli Suga, LILACS supervisor, discussed search strategies and infometrics on SDG3 in LILACS.
See published article: Best Practices in Editorial Processes for LILACS: edition 2023 has started – BIREME/PAHO/WHO Bulletin
Session 2: Challenges of the Transition from Open Access to Open Science in AL&C
On June 28, 2023, the second session brought Dr. Bianca Amaro (IBICT) as keynote speaker. Dr. María Amalia Peñabad-Camacho shared valuable experiences about the transition to Open Science in the Colombian journal MHSalud. Sueli Suga presented a comprehensive analysis of Open Access and Open Science in LILACS and BIREME/OPS/WHO, covering their history, recent results and the adoption of open practices.
Both sessions were actively attended, involving 184 participants from 20 countries in Session 1 and 159 participants from 19 countries in Session 2, with an average attendance of 55 minutes per session!
Follow us at: Buenas Prácticas en los Procesos Editoriales de Revistas Científicas para LILACS (2023) | | LILACS (bvsalud.org) (in Spanish).

Indexing Documents according to the LILACS 2023 Methodology
Now in its seventh year, this training course, aimed especially at librarians and information professionals, aims to provide the tools and knowledge needed to choose the most appropriate descriptors for the representation and retrieval of publications registered in databases that adopt the LILACS Methodology.
Throughout three sessions, experts who are members of the LILACS Indexer Network plan, develop the content to be presented, the task to be carried out and present the session, which is a time to share their experiences and knowledge, providing valuable insights for practice.
Session 1: The first session, held on April 27, 2023, presented the DeCS/MeSH thesaurus, its functionalities and updates, with Dr. Luciana Beatriz Piovezan Rio Branco giving the first presentation. The use of the vocabulary for indexing documents with examples using the new DeCS/MeSH terms was presented by Sueli Mitiko Yano Suga, supervisor of the Referential Information Sources area at BIREME/PAHO/WHO. 132 professionals from 18 countries took part.
Session 2: On May 25, 2023, the process of indexing documents according to the LILACS Methodology was the focus of the session. The presentation was divided between Nisbeth Jimenez Valdespino (Venezuela) and Sueli Mitiko Yano Suga, from BIREME/PAHO/WHO. 117 professionals from 18 countries took part
Session 3: The third session, held on June 22, focused on the first stage of the document indexing process: technical reading and content analysis. The session was facilitated by Aldana Ljeschak Marino from the Hospital Italiano de Buenos Aires in Argentina. 100 professionals from 18 countries took part.
Each session offers a unique learning opportunity, promoting continuous training and the improvement of indexing practices.
Follow: Indización de Documentos según la Metodología LILACS 2023 | | LILACS (bvsalud.org) (in Spanish).