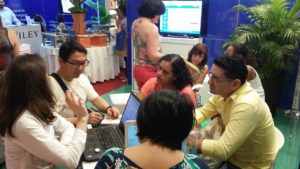 Following years of tradition, the 16th edition of Rede Brasileira de Informação em Saúde meeting was held during the 19th Seminario Nacional de Bibliotecas Universitarias (SNBU) in Manaus, Amazonas, on October 15 to 21, gathering more than one thousand Information Science professionals working in the academic area, many of them users and/or contributors of the Virtual Health Library (VHL).
The meeting was organized by BIREME/PAHO/WHO together with the Coordenação Geral de Documentação e Informação da Secretaria Executiva do Ministério da Saúde (CGDI/SE/MS), with the objective of strengthening and promoting the VHL through its network, products and services. With wide participation of the Network in the meeting, it was attended by about 50 professionals from different cooperating centers of Brazil VHL Network.
BIREME director, Dr. Diego González Machín, followed in depth the networking activity and presented the lines of action and future prospects that will be reinforced in his mandate. The presentations by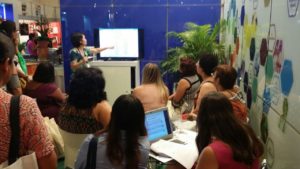 BIREME technical staff highlighted the new developments that will certainly strengthen collaborative work and enhance visibility and use of health information. Some examples are: the integrated management of sources of information and databases (FI-Admin system); the use of the WordPress platform for publication of portals and VHL instances; bibliographic control of the Brazilian scientific production and the creation of a Reference Network for "strategist" librarians (specializing in the design of search strategies). The meeting's program is available at http://brazil.bvs.br/eventos/schedule/programa.
Other activities of the Network at the SNBU included presentations open to participants on the topics: Getting to know BIREME; New network cooperation technologies and processes; Quality criteria for journal permanence in LILACS database; and Searching in the VHL.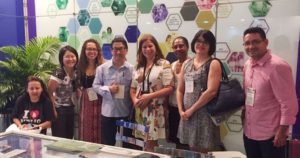 The SNBU allows sharing experiences, answering to questions and making contact with professionals and those interested in BIREME's projects, products and services, especially in Brazil VHL Network booth, which served as a major meeting point for the participants of the seminar. The words of Maria Imaculada Sampaio (of the Psychology VHL) at the meeting's closing ceremony portray the atmosphere of enthusiasm that prevailed during the entire seminar: "it is good to see BIREME and its team strengthened and invigorated. This is the BIREME we want!"
The Brazil VHL Network was also represented in SNBU's program with a case report: Project full texts on leprosy – digitization and online publication of the journal Leprosy Review from 1928-2001, available at https://goo.gl/u2jFdT.