Scholarly communication, as science itself, evolves rapidly and it is necessary to follow and understand such changes. In this regard, the Office of the Assistant Director of the Pan American Health Organization/World Health Organization (PAHO/WHO) through its bodies BIREME and Library and Information Networks, both from the Area of Knowledge Management, Bioethics and Research (KBR) train researchers, health professionals, decision makers and students in current topics of scholarly communication and writing through face-to-face courses in the Latin American and Caribbean region.
BIREME has developed and taught scholarly communication courses, and since 2014, it has trained more than 450 participants of the State and Municipality Secretariats, as well as education and research institutions in many Brazilian states. Trainings are scheduled for 2017 in other states and countries in the Region. The KBR office, in addition to conducting courses on scientific writing in the Region, is responsible for the editorial management of the Pan American Journal of Public Health, the official journal of PAHO/WHO, which publishes most of the scientific articles about the countries' priority health topics. Moreover, open educational resources and online courses on these themes are planned to be created in the near future.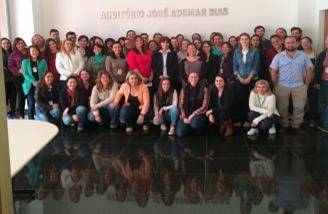 Scholarly communication: paradigm shift
Scholarly communication today goes through a paradigm shift similar to that seen in the late 1990's, when the emergence of the World Wide Web and the abusive price increases of journal subscriptions by the multinational publishers who dominated the global publishing market, in the episode known as the serial publication crisis, drove the Open Access movement. At the time, many could not imagine that online publication would be adopted in such wide scale worldwide at the expense of printed versions, reducing times and costs, increasing the efficiency of the editorial process and allowing the immediate sharing of information, in addition to many other possibilities provided by new information and communication technologies. The elimination of economic barriers in the access to contents as well as copyright, regulated and established by licenses such as Creative Commons, allow different levels of access, editing and use of information.
After almost 20 years, the publication of research results is today on the verge of a new age. The solid pillars that support it are being questioned, new forms of publication are emerging and well-known impact indexes are now seen with reservation. What is going on with scholarly communication as we know it, after all?
Online publication led to the emergence of new forms of communication. In the attempt to make up for the difficulties in access to contents imposed by commercial publishers that still dominate in a certain extent the academic publishing market, postprint repositories appeared. Called the Green Road[1] of open access publication, institutional and thematic repositories have gained relevance through mandates of research institutions, funding agencies and governments around the world. The main objective of repositories is to gather publications in open access, even if they have to respect the embargo periods imposed by publishers. So far, nothing new. More recently, however, preprint repositories have emerged, like arXiv[2], which are meant to rapidly publish preliminary research results before they go through peer review. Documents go through the approval of the repository editors and are exposed to comments and review of the global scientific community. After improved and consolidated in successive versions, the articles may then be submitted to formal publication in journals. BioRxiv[3] has been publishing preprints in Life Sciences since 2013, and it is a valuable alternative to rapidly share research results on topics that require immediate attention, such as Zika virus infection, the Ebola epidemic, and others. Preprint repositories in Chemistry (ChemRxiv), Social Sciences (SocArXiv), Psychology (PsyArXiv), and Engineering (engRxiv) are currently being launched.
The motivation for the emergence of preprints, in addition to expediting publication, is to try a new form of peer review, called post-publishing peer review. In this modality, the articles previously assessed by the repository editors on their scope, originality and methodological soundness are published before formal peer review, but are exposed to the scrutiny of the entire scientific community after publication. The main criticism to the traditional peer review process is that, in addition to delaying the dissemination of research, it is not – in every situation – a filter for truthfulness, accuracy or quality of the articles, assigning an often times unjustified quality stamp. We all know that careful peer reviews that really contribute to improve papers are not the overall rule.
In this scenario, the evaluation of science through impact indexes based on citations sounds – or should sound – outdated. Let´s remember that the Impact Factor was created in 1975 as a metric to support the choice of subscription journals by academic libraries, and its utilization to evaluate research and researchers is, to say the least, imprecise and inappropriate. Scientific societies and academic institutions have manifested themselves publicly to discourage their use in the processes of hiring researchers and advancing careers. Similar indexes, such as SCImago Journal Rank, Eigenfactor, Article Influence, h-Index, and Qualis-Capes are only variations of same concept and should also be used with caution.
As an alternative, in 2010, alternative metrics, or altmetrics, appeared. The Altmetric[4] index is an innovative form of measuring impact and usability of an article, in addition to its citation by other publications. It includes its use, download and sharing in academic social networks, like Mendeley, CiteULike and Zotero, and non-academic social networks, such as Facebook, Twitter, YouTube, Google+, LinkedIn, and Wikipedia, in addition to blogs, news, public policy documents, preprint repositories, etc. If we consider only formal citations in articles, we would probably be leaving aside more than 50% of scientific publications produced all over the world. Altimetric has the objective of including these publications and assigning them their due recognition.
[1] In addition to this modality, there is also the Golden Road, which consists of fully open access journals and hybrid journals, which are subscription publications that make available articles in open access upon the payment of a fee.
[2] Repository of publications in the areas of Physics, Mathematics, Astronomy and related sciences, created by Cornell University in US, in 1991.
[3] bioRxiv – http://biorxiv.org/
[4] Altmetric – https://www.altmetric.com/