In 2017, BIREME – Latin American and Caribbean Center on Health Sciences Information – celebrates 50 years of existence, fully dedicated to contribute to the health of populations in Latin America and the Caribbean (LA&C), by means of the democratization of access, use and exchange of scientific and technical health information, in convergence with national and regional strategies of the 2030 Agenda and Universal Health Coverage.
On March 3, 1967, BIREME/PAHO/WHO was established in Brazil by the first Maintenance Agreement entered into between the Pan American Health Organization (PAHO), the Regional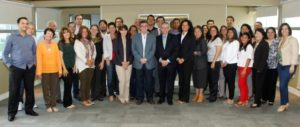 Office of the World Health Organization (WHO) in the Americas, and institutions representing the Brazilian Government, Ministry of Health, Ministry of Education (MEC), Secretariat of Health of the State of Sao Paulo and the Universidade Federal de São Paulo (UNIFESP).
BIREME was created as Biblioteca Regional de Medicina [Regional Medical Library] from where the acronym came. Throughout these past 50 years, it has established a long and rich history dedicated to strengthening and expanding the flow of scientific and technical information on health in LA&C and evolved by means of different models of scientific and technical information management. In 1982, its name was changed to Latin American and Caribbean Center on Health Sciences Information to better define its extended scope as a PAHO/WHO specialized center oriented towards the thematic area of health sciences.
BIREME technical cooperation has definitely contributed to the development of policies, programs, standards, methodologies, technologies, projects, products, services, events as well as scientific and technical information in health, in cooperation with international, regional and national organizations.
Working with networks of both partner institutions and thematic networks has always been the main feature of BIREME's action. This has facilitated the inclusion of national institutions and communities in producing, operating and using cooperative products and services for scientific and technical information. The VHL (Virtual Health Library) operates sources of information of records on scientific literature in health and which have search and navigation interfaces in Spanish, English, Portuguese and French (gradually being included since 2016). The collection of full texts provided in an open-access mode is progressively increasing.
Upon the consolidation of the Internet as the main medium for sources and flows of scientific and technical information, BIREME's action strengthened its position as a reference institution in scientific and technical information on health. More than two thousand and four hundred institutions are directly or indirectly related to the VHL and its complementary regional and international networks. During the last five decades, BIREME has kept pace with the state of the art in scientific information and it has contributed to the continuous strengthening of national and regional skills to promote visibility of scientific and technical information and of scientific evidence for decision making.
References                                                
Institutional Portal of BIREME/PAHO/WHO