BIREME and the Pan-American Foot and Mouth Disease Center (PANAFTOSA), both specialized PAHO/WHO centers, have been working together for many years to strengthen management of information and scientific and technical knowledge in zoonoses and food-transmitted diseases. The main products of this joint effort between the Centers are VHL Veterinary Public Health and VHL Food Safety.
Aiming to strengthening these initiatives and expanding possibilities of technical cooperation between the two Centers, a series of meetings were held at the PANAFTOSA headquarters, in Rio de Janeiro/RJ, in May 2017. Attendees included Center Directors, Dr Ottorino Cosivi (PANAFTOSA), Dr Diego González (BIREME) and both Centers' technical teams, which enabled the exchange of information about their main projects and technical cooperation activities at the regional and global levels.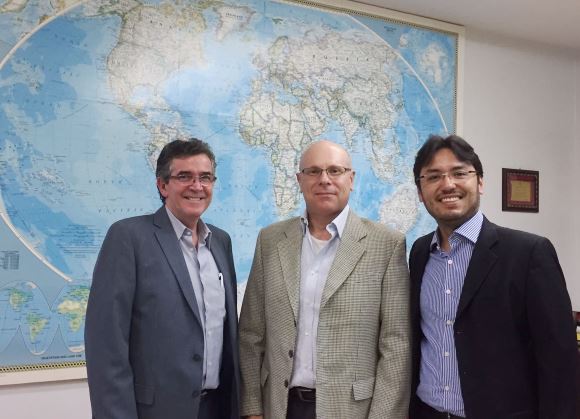 The conclusion of such meetings is that there is great opportunity to assess the VHL instances coordinated by PANAFTOSA and to promote actions for national and regional strengthening of collaborative work among the Veterinary Public Health and Food Safety institutions, as well as to update products, services, and contents available on the respective Web portals.
Considering management of information and knowledge as a crosscutting theme in all areas of technical cooperation in PANAFTOSA, it is important to highlight that PANAFTOSA Knowledge Management Center has been recently going through a process to review, reorganize and restructure its activities with the support of KBR/PAHO. Thus, new prospects are open for cooperation with BIREME as per the Cooperation Terms in effect, considering the need to access and use information and scientific evidence to support decision-making, registration systematization, organization and dissemination of successful experiences and good practices, and training human resources, with the final objective of strengthening dissemination of topics related to Veterinary Public Health in the Region.