The Director-General of the World Health Organization (WHO), Tedros Adhanom Ghebreyesus, held his first official visit to Brazil on March 21 and 22, 2018. He attended several meetings with national authorities in Brasilia and gained a deeper understanding of the Sistema Único de Saúde (SUS – Unified Health System).
The PAHO/WHO Representative in Brazil, Joaquín Molina, the Director of PANAFTOSA, Ottorino Cosivi and the Director of BIREME, Diego González, were in Brasilia on the 21st to accompany Dr. Tedros' visit to the Chamber of Deputies and to the PAHO/WHO Office in Brazil.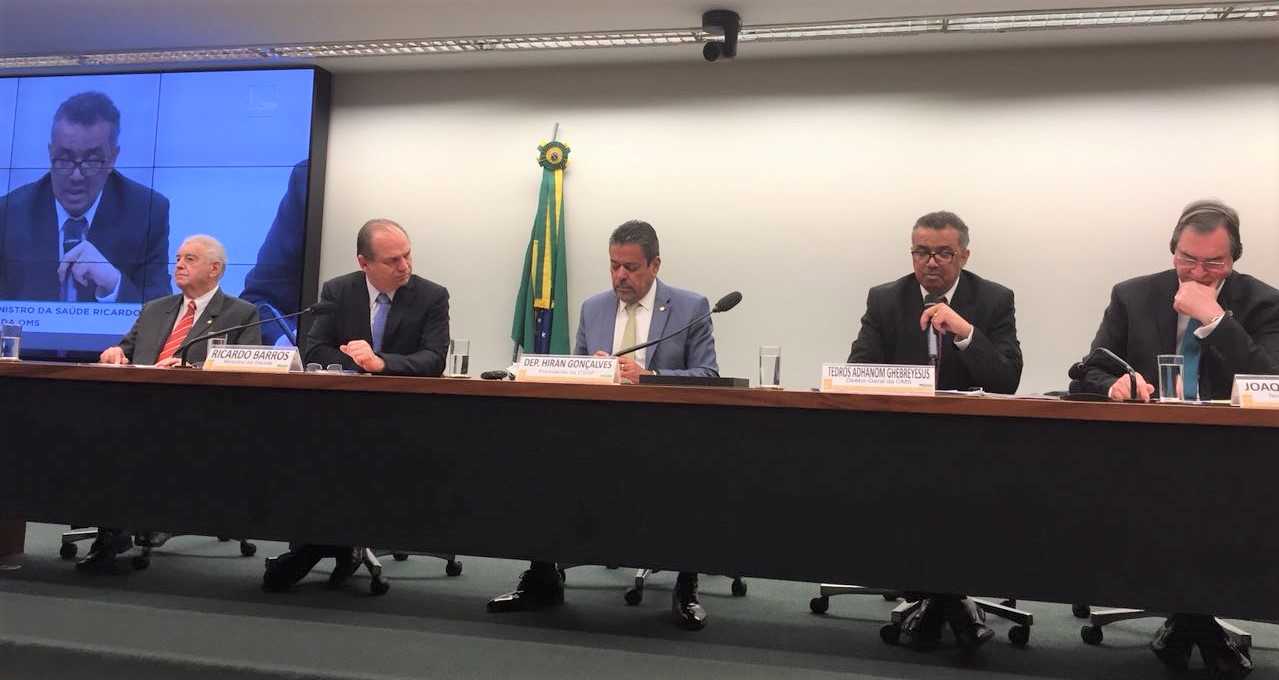 Dr. Tedros addressed the Comissão de Seguridade Social e Família da Câmara dos Deputados (Social Security and Family Commission of the Chamber of Deputies) in Brasilia, where he stated that universal health coverage should be a priority for all countries. The WHO Director-General declared that Brazil has a health system capable not only of guaranteeing the daily needs of the population, but also of defending it against outbreaks. He congratulated the Brazilian government for its quick response regarding the outbreak of yellow fever, which saved many lives, and emphasized the country's important role in the production of vaccines against the disease. According to him, health is a right for everyone, not a privilege for some. He also argued that universal health coverage, in addition to improving the health of the population, has positive impacts on the countries' economies. "It can take people out of poverty by removing one of its causes; create jobs for health care workers; boost inclusive economic growth by ensuring that people are healthy and able to work; and promote gender equality".
His view on the SUS is that it is a powerful force to achieve equity. "The fact that all services and products, including medicines and vaccines, are provided free of charge is a solid foundation not only for better health but also for development". He also recognized that Brazil is making great progress in the equitable distribution of health professionals throughout its territory.
At the occasion, Dr. Tedros received from the president of Brazil, Michel Temer, the gold category of Oswaldo Cruz Medal of Merit in recognition of the services provided to Brazilian public health. The honor was also given to Mariângela Batista, WHO Assistant Director-General for Drug Access, Vaccines and Pharmaceuticals, and to the World Health Organization itself. In February, the medal had been delivered to the Pan American Health Organization/World Health Organization (PAHO/WHO) Representative in Brazil, Joaquín Molina. On a previous occasion, the award was also granted to PAHO Director, Dr. Carissa F. Etienne.
The Director-General's Presence in PAHO/WHO Brazil
Dr. Tedros also participated in the meeting of the Comissão Intergestores Tripartite (Tripartite Managers' Commission), which is hosted monthly in Brasilia by the PAHO/WHO Office in Brazil. At the occasion, Dr. Tedros restated the importance of universal health coverage not only for people to have access to their basic right to health, but also as a means of promoting the development of countries. "Investments in the health sector are not just investments in the health sector. They are also investments for economic growth and for an increasingly fair and prosperous future for all", he affirmed.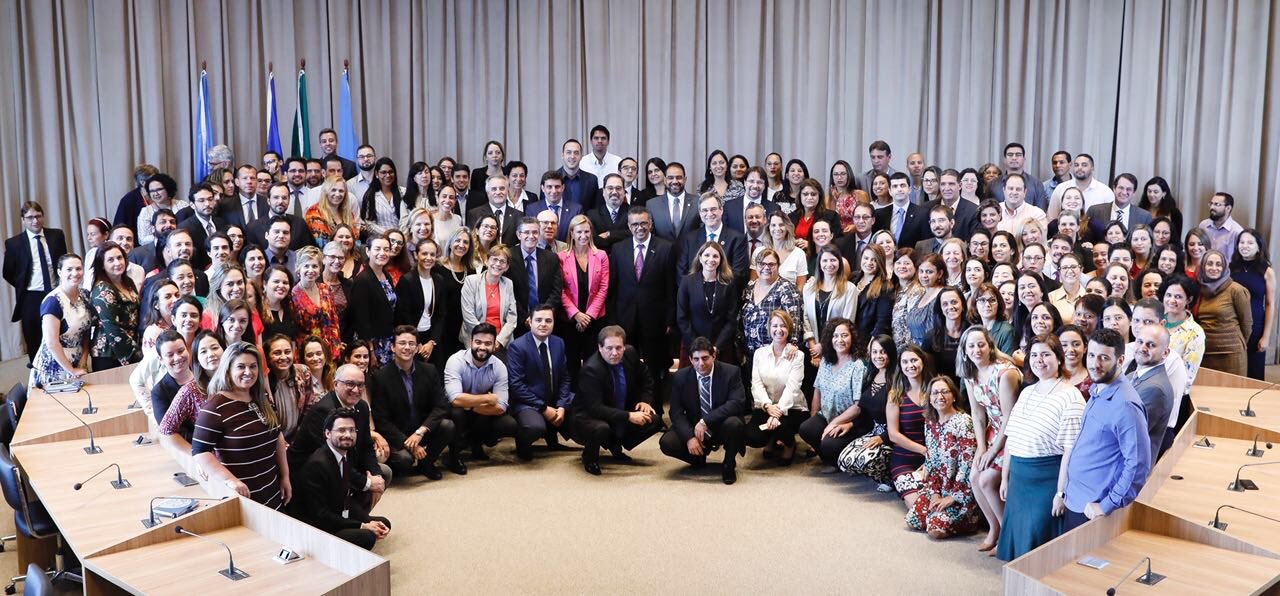 Another issue addressed by the WHO Director-General is the need to ensure quality health care for patients. "If health care services are not safe or of poor quality, people will stop using them. This could lead to a considerable increase in illnesses that will definitely have a high treatment cost".
In addressing the PAHO Brazil staff, the Director-General stated that five pillars must be taken into account in order to improve health services provided to the population. The first of these pillars is commitment from leaders. "At all levels of a health care system, it is vital to develop leaders that will ensure patient safety and high quality at the summit of clinical care", he emphasized. Transparent policies are also necessary so that "every health care worker knows and understands the best practices, based on the best evidence, in order to keep patient safe and provide correct care".
The third point concerns the improvement of data-driven health care systems. According to the WHO Director-General, robust systems should accompany successful practices as well as those that do not function correctly, so as to continuously make appropriate adjustments.
Tedros recalled that "policies and systems are important, but at the end of the day, health services are delivered by people". Thus, the fourth priority is to provide health care professionals with the correct conditions, abilities, training and tools in order for them to fully accomplish their work. The fifth topic is to involve patients and their families "as true partners in care" – empowering them to participate actively in the health care system.
About Dr. Tedros Adhanom Ghebreyesus
He was elected by the WHO Member States for a five-year term on May 2017. Prior to that, he worked in Ethiopia as Minister of Foreign Affairs from 2012 to 2016 and as Minister of Health from 2005 to 2012. Immediately after taking office on July 1st 2017, he proposed five main priorities for the Organization: universal health coverage; health emergencies; health of women, children and adolescents; impacts on health of climate and environmental changes; and a transformed WHO.
Born in the city of Asmara, Eritrea, Tedros holds a PhD in community medicine from the University of Nottingham and a master's degree in infectious disease immunology from the University of London.
About the WHO
The WHO was founded on April 7, 1948, under the principle that all people can attain their right to the highest possible standard of health care. For 70 years, "Health for all" has been the guiding vision of the Organization. Yet at least half of the world's population still does not have access to the health services they need, which drives millions of people to poverty while they struggle to pay for their health expenses.
"Health for all" is also the driving force behind the PAHO/WHO initiative to support countries around the world in their quest for universal health care.
Source: PAHO Brazil