Women's Health is a priority topic for all the countries of the Region of LA&C, as confirmed in the 56th Directive Council and 70th Session of the Regional Committee of the OMS for the Americas (September 2019), with the approval of the Plan of Action for Women's, Children's and Adolescents' Health 2018-2030.
This plan calls for the addressing of the immediate causes of mortality, morbidity and preventable sequelae in women, children and adolescents, as well as their underlying determinants, within the framework of rights, gender, life course and cultural diversity, in order to promote development, health and well-being.
BIREME has been called upon for many years to address the issue of Women's Health by collaborating in the search and evaluation of evidence for issues addressed in research studies and syntheses of evidence undertaken in the master's course "Women's Health" of Universidade Federal do Piauí (UFPI).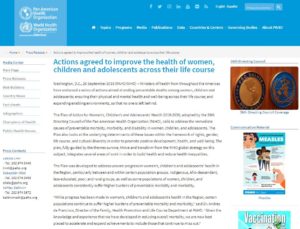 The most recent activity took place on the 23rd and 24th of August, with the participation of 30 Master's students. Verônica Abdala, Information Services and Product Manager for BIREME/PAHO/WHO, contributed to the delimitation of each student's research question applying the PICO method, as well as with building the search strategy of the VHL Regional Portal.
As a methodology, students were oriented to participate previously on the Online (self-learning) Course on access and use of scientific health information promoted by BIREME/PAHO/WHO in the Virtual Campus for Public Health.
With the foundations of the course online, it was possible to work with the delimitation of each research project, such as the elaboration of search expressions and suggestions on which research method to apply.
In the same context, Prof. Dr. Lis Cardoso Marinho, coordinator of the Master's Women's Health of the UFPI, is leading the elaboration of a synthesis of evidence on the "Reduction of Maternal Mortality in the state of Piauí", a project linked to EVIPNet Brazil Network, promoted by the Department of Science and Technology of the Ministry of Health (DECIT/MS), for which BIREME is also collaborating with the search and evaluation of evidences to subsidize the identification and selection of options for policies addressing this issue.
For Verônica Abdala, direct contact with the users of the information is very important, as well being able to facilitate the application of scientific evidence in research studies related to issues of high impact on public health, as maternal mortality. This experience feeds and enhances the information services developed by BIREME and contributed to the creation of friendlier and more efficient interfaces for information users.
Reference source
Actions agreed to improve the health of women, children and adolescents across their life course. September 2018. Available from: https://www.paho.org/hq/index.php?option=com_content&view=article&id=14702:actions-agreed-to-improve-the-health-of-women-children-and-adolescents-across-their-life-course&Itemid=1926&lang=en
Plan of Action for Women's, Children's and Adolescents' Health 2018-2030