The poster sessions, notably, constituted important spaces for exchanging experiences and knowledge in the fields of information science, scientific communication, and information methodologies and technologies and their applications for the development of research, education and health systems. The sessions were greatly valued and followed by participants of CRICS10 – the 10th Session of the Regional Congress on Health Sciences Information.
Between the 5th and 30th of September, the CRICS10 Secretariat received over 200 abstracts from 12 countries. The works submitted dealt with all of the thematic axes of the Congress, with special remark to the topics "Information Management" and "Knowledge Management", which motivated the largest number of submissions. In terms of country representation, authors from Brazil, Cuba, Colombia and Paraguay were the most numerous.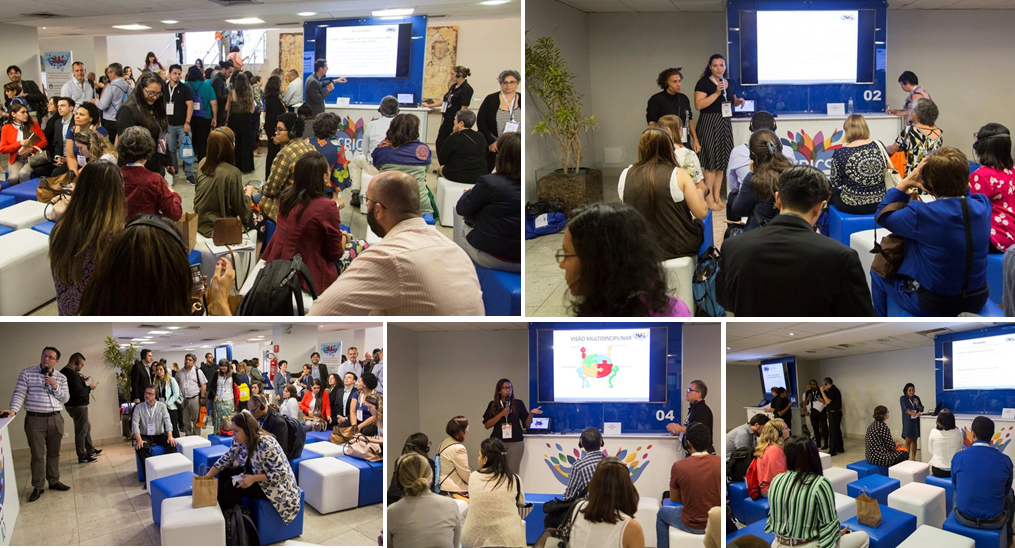 The received works were evaluated by members of the Scientific Committee, according to their field of expertise and considering criteria of content relevance and quality of the information. Thus, over 150 works were selected and their presentations, in PowerPoint format of approximately 10 minutes, took place in the breaks between the morning and afternoon periods, during the two days of the Congress (December 5 and 6), and aroused widespread interest.
CRICS10 was marked by its central scientific program, as well as by a diversity of options and activities other than the poster sessions, such as the Satellite Events, the stands of the institutions that compose the National Organizing Committee, and the launching of new products and services of BIREME, many of which occurred simultaneously in different auditoriums. Over 560 participants from 32 countries were attended the Congress.
The Scientific Committee of CRICS10 selected the Round Table format for developing the thematic axes of the Congress. Round Tables or Discussion Panels are a common way of motivating an exchange of points of view among experts, through previously prepared presentations on a topic or in response to a question proposed by a moderator, with contribution from the audience. The members of the CRICS10 Round Tables were professionals that brought different contributions – often form different sectors – on the thematic axes of the Congress, enriching the discussion with the audience, which occurred at the end of each presentation.
Both the round tables and the master conferences took place in the main auditorium, which was equipped with simultaneous translation in Portuguese-Spanish-English during the three days of the Congress, in order for all participants to be able to enjoy the conferences and panels and participate in discussions and debates.
During the event, the CRICS10 Website and BIREME's social networks were constantly updated with posts, photos, videos, interviews and news.
As the Director of BIREME, Dr. Diego González, pointed out during the closing ceremony, "the participation of all those present contributed to the success of the event".