Within the context of the technical cooperation of BIREME/PAHO/WHO in Latin America and the Caribbean in technical and scientific health information management, BIREME coordinated the virtual workshop and pre-conference "New Cataloguing Data Entry Competencies for VHL in the Caribbean" during the 49th Conference of the Association of Caribbean University, Research and Institutional Libraries (ACURIL), which took place in Aruba, from June 2 to 9, 2019, with the central theme "Access and opportunity for all: Caribbean Libraries, Archives and Museums Supporting the United Nations Sustainable Development Goals".
The initiative is also part of the actions promoted by the Virtual Health Libraries Content Area Group as a Community of Practice, established in 2018 as a result of Resolution 3, which was presented and approved at ACURIL's General Assembly. This Community of Practice is coordinated by Prof. Carmen Santos-Corrada (Conrado Asenjo Library, University of Puerto Rico, Medical Sciences Campus) and co-coordinated by Ayaana Alleyne-Cumberbatch (Medical Sciences Library, University of the West Indies, St. Augustine Campus).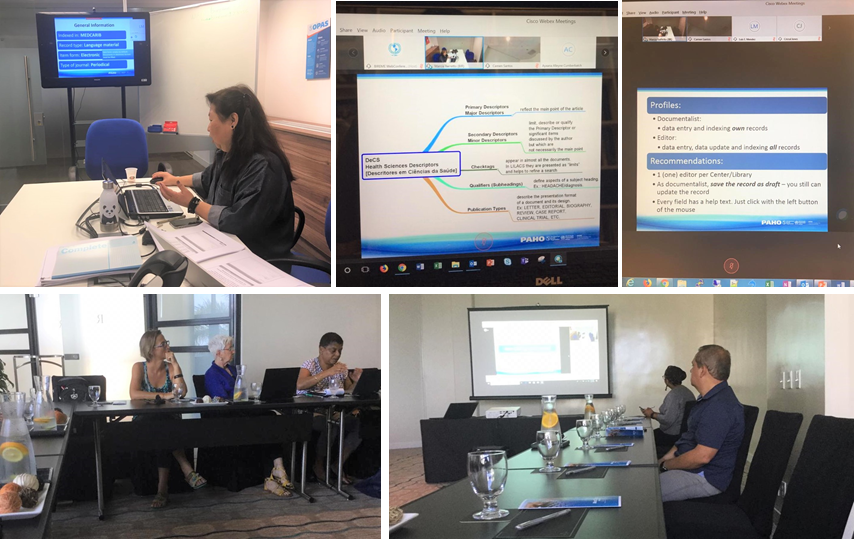 Márcia Y. Barretto, Coordinator of Information Technology Infrastructure of the Administrative Management (ITI/GA) of BIREME, organized the content and virtually held the workshop that took place on June 2nd. During the workshop, Ms. Barreto presented the FI-Admin tool for the entry of new records for databases that follow the LILACS Methodology (LILACS – Latin American and Caribbean Literature on Health Sciences), which is also a source of information for the Virtual Health Library (VHL), which is coordinated regionally by BIREME.
Fourteen representatives of the four languages of the Caribbean (Spanish, English, French, and Dutch) participated in the workshop, 11 of them in person. Members of the MedCarib Network, currently coordinated by Ayaana Alleyne-Cumberbatch, were also among the participants. At the end of the workshop there was a question and answer session, and participants had the opportunity to interact and to recognize the importance of the line of action for strengthening technical and scientific information management in the Caribbean.
The MedCarib Network, integrating part of the VHL Network, brings together libraries from the English and Suriname Caribbean. It is responsible for the production of the corresponding bibliographic database on information in health sciences. Currently, it is also one of the pillars of the Caribbean Public Health Agency (CARPHA), through the CARPHA EvIDeNCe Portal.
Related Links:
Successful pre-conference workshops at ACURIL 2019
Related articles from previous Bulletin editions:
CARPHA EvIDeNCe Portal, a joint project in the Caribbean Region (BIREME Bulletin nº 3)
CARPHA EvIDeNCe and MEDCARIB stood out in events in Trinidad & Tobago (BIREME Bulletin n° 10)
BIREME cooperation to CARPHA initiatives for the Caribbean (BIREME Bulletin nº 22)