The specialized Center of the Pan American Health Organization/World Health Organization (BIREME), within the scope of its mission to democratize information, knowledge and evidence for health decision-making, developed a Window of Knowledge on the Novel Coronavirus (2019 -nCoV), which seeks to provide qualified and updated information to health professionals and the general public about the outbreak of the disease.
The action developed by BIREME is related to the declaration of the World Health Organization (WHO) on January 30, 2020 that the outbreak of the Novel coranavirus (2019-nCoV) constitutes a Public Health Emergency of International Concern. This decision implies global coordination, cooperation and solidarity to prevent the spread of the virus.
The Pan American Health Organization immediately offers technical recommendations and provides technical support in order to strengthen its capacity to respond to these emergencies. According to Dr. Diego González, director of BIREME, "this is a time when we all come together to support our countries and, specifically, our center is mobilized, making available to everyone updated information about the virus and the actions to be taken to fight it. In identifying the information that will be made available and in its dissemination, we have the support of our networks of partners and PAHO representations in countries "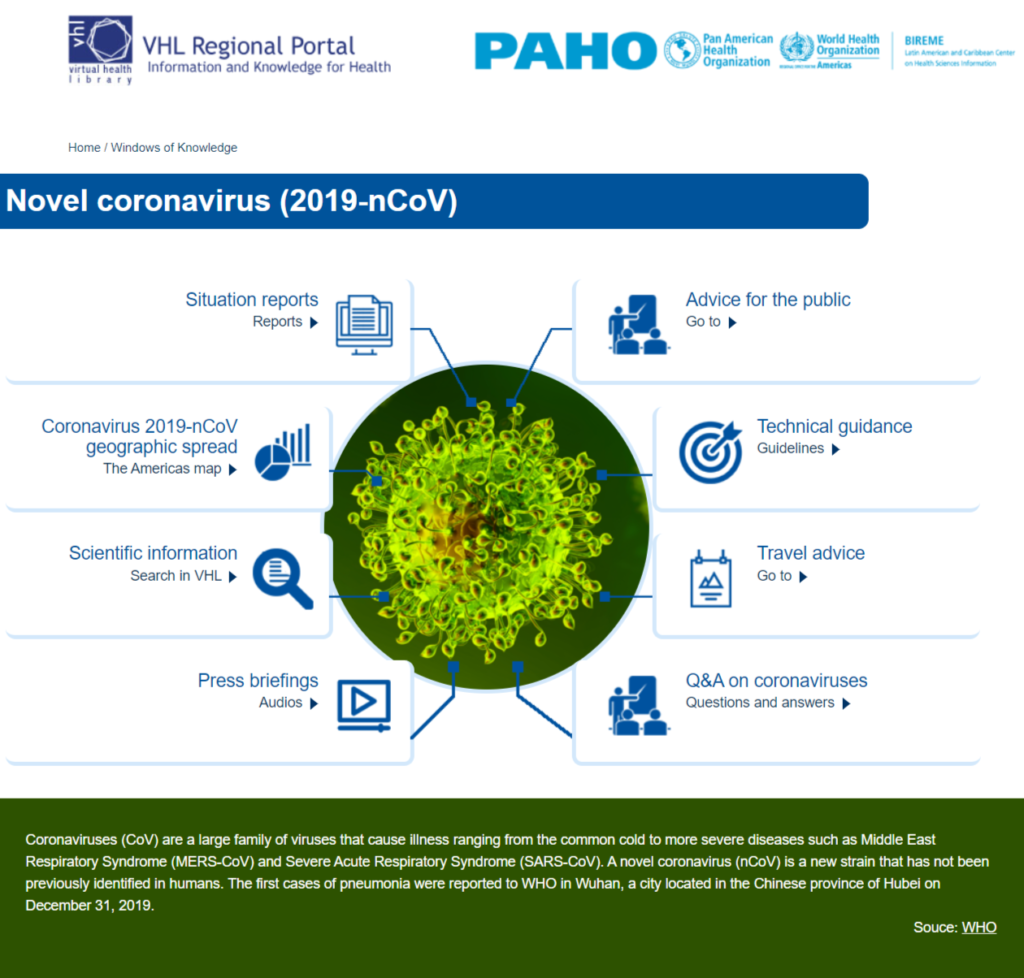 The Window of Knowledge, available in Portuguese, Spanish, English and soon in French, is a space for socializing, with constant updates from WHO, PAHO, Ministries of Health and research and health institutions in Latin American and Caribbean countries. The Portuguese and French versions will have, for preparation and translation, the support of the PAHO Offices of Brazil and Haiti, respectively.
Selected content includes:
Filter of  information available in the Virtual Health Library (VHL)
Articles available as preprints in the bioRxiv repository
Guides and technical manuals
Map of the geographical distribution of cases in AL&C
Information for the public.
Audiovisual material
News
Reference websites and publications.
The Window of Knowledge is a VHL resource that aims to provide visibility and access to the main documents and other information resources on a priority health issue. Access the collection of Windows of Knowledge on other topics of interest to health available in Spanish, Portuguese and English.
BIREME relies on the support of official organizations, institutions, health professionals, researchers, managers and the general public to promote and disseminate this important source of information.