There is now a rapid accumulation of scientific publications related to biomedicine and health sciences published not only in English, but in other languages such as Spanish. The relevance of being able to access and search for medical publications written in various languages became apparent during the COVID-19 pandemic, where the need for access to scientific information sources on a global scale is critical.
The Virtual Health Library (VHL), along with bibliographic databases such as IBECS, LILACS and SciELO, provide access to literature that serves as key sources of information to researchers and health professionals to retrieve articles of importance for evidence-based medicine, the development of clinical guidelines, as well as systematic reviews and development of scientific studies with the ultimate goal of improving patient health.
Efficient searches on these information sources often require complex queries that depend on the prior designation of key terms to these articles, which describe their content. This process, known as semantic indexing with controlled vocabularies or terms such as MeSH or DeCS, today, is a manual task making it increasingly difficult to assign these terms to an increasing number of publications.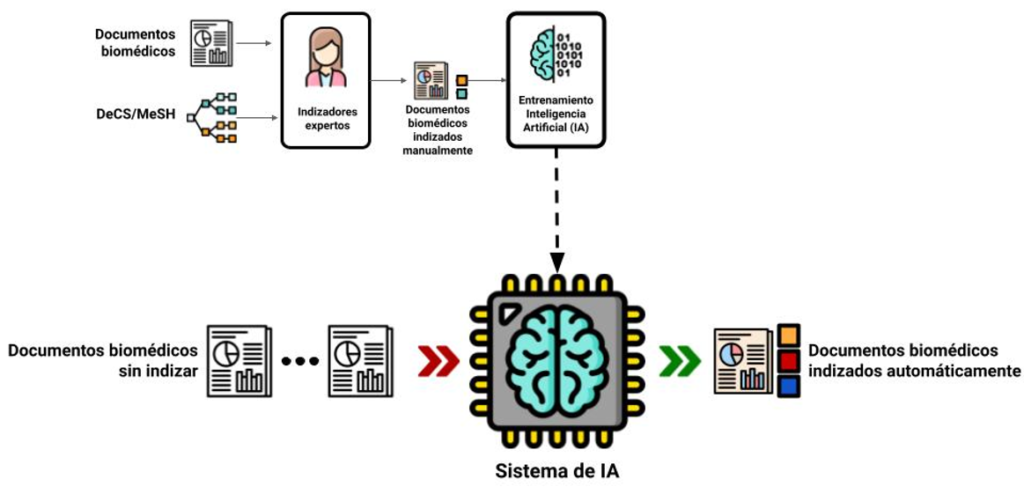 The Text Mining unit of the Barcelona Supercomputing Center, within the framework of the Language Technology Boost Plan (TL Plan) collaborates with the Biblioteca Nacional de Ciencias de la Salud (BNCS-ISCIII) and BIREME/OPS/WHO to promote the development of semantic indexing systems based on the latest advances in artificial intelligence and natural language processing through an international competition called MESINESP2 (BioASQ-CLEF2021).
MESINESP2 participants will catalyze the search for biomedical information through semantic indexing systems based on scientific rigor and the most advanced artificial intelligence technologies applied to texts in Spanish.
Participating systems will accelerate these searches, capable of retrieving the most relevant texts on medical literature, as well as patents and clinical trials. MESINESP2 results will also generate semantic indexing systems that will potentially be useful for processing other content such as electronic medical history or clinical practice guides in future scenarios.