The beta version of the 2021 edition of the DeCS/MeSH vocabulary has just been released, and the definitive version is scheduled for July of this year. The main new features are related to the addition of 287 new descriptors to this vocabulary. The Supplementary Concept Records (SCR) terms that reach a certain number of citations are promoted to descriptors in MeSH. This happened in 2021 with several of the terms related to COVID-19. The following descriptors stand out:
Some other new descriptors related to COVID-19, such as Anosmia, Return to School, Social Distancing and Teleworking, among others, were also included, reflecting the magnitude of issues in scientific documents produced in the context of the pandemic. There was a small increase of 0.74% in the number of descriptor records compared to the previous year's edition. However, the number of synonyms increased by more than 10% in Portuguese and Spanish.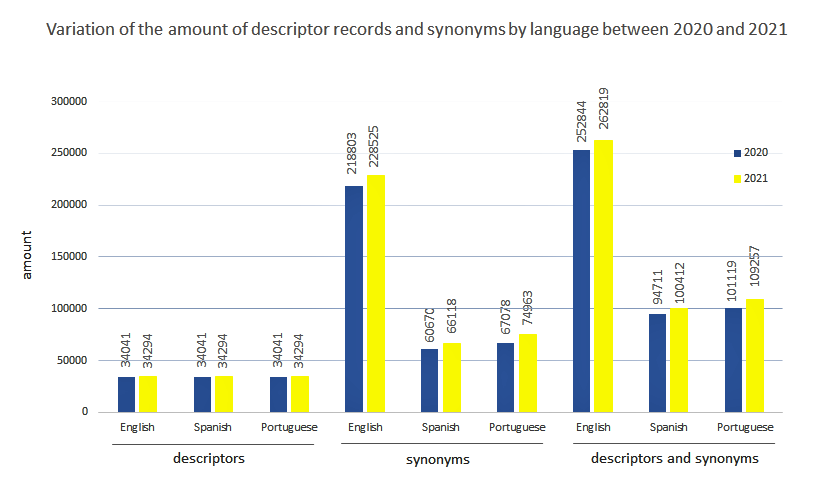 Partnerships with the Facultad de Medicina of the Universidad de Chile and the Instituto de Salud Carlos III in Spain ensure the translation of the new MeSH terms into Spanish.
As a technological improvement, as of 2021, the terminology tree on the new website can now be browsed through the "Tree view" tab in the menu. Visualizing the vocabulary structure allows the user to understand the broader or more specific relationships between the concepts represented by DeCS/MeSH.
The 2021 DeCS/MeSH for online consultation is available through the DeCS portal or integrated into the homepage of the VHL Regional Portal.
About DECS
The DeCS structured and multilingual vocabulary was created by BIREME to serve as a unique language for indexing articles from scientific journals, books, conference proceedings, technical reports, and other types of materials, and also to be used in the search and retrieval of topics from scientific literature, in the information sources available in the Virtual Health Library (VHL), such as LILACS (Latin American and Caribbean Literature on Health Sciences), and MEDLINE (Online Medical Literature Analysis and Retrieval System), among others.
It was developed from MeSH of the National Library of Medicine (NLM), with the objective of allowing the use of common terminology for research in the languages ​​of the region, providing a consistent and unique means of retrieving information regardless of the language. Its update is carried out in line with the MeSH update, which occurs at the end of each year and involves the insertion of new descriptors and the elimination, modification, and hierarchical repositioning of others.
Learn more
Health Sciences Descriptors. What's new in 2021. Available at:  https://decs.bvsalud.org/en/whats-new-in-2021/
NLM Technical Bulletin. MEDLINE Data Changes 2021. Available at:   https://www.nlm.nih.gov/pubs/techbull/nd20/nd20_medline_data_changes_2021.html#updated_mesh
Related articles
What are the DeCS/MeSH terms in your text? BIREME finds them for you! BIREME Bulletin n° 53. Available at: https://boletin.bireme.org/en/2021/03/05/what-are-the-decsmesh-terms-in-your-text-bireme-finds-them-for-you/
Launching of the new DeCS/MeSH website. BIREME Bulletin n° 48. Available at: https://boletin.bireme.org/en/2020/10/05/launching-of-the-new-decsmesh-website/
DeCS 2020 is available online. BIREME Bulletin n° 47. Available at: https://boletin.bireme.org/en/2020/09/05/decs-2020-is-available-online/
Searching with DeCS terms is a guarantee of best outcomes. BIREME Bulletin n° 34. Available at:
https://boletin.bireme.org/en/2019/07/28/the-decs-2019-update-is-now-available/