Diego González Machín, employee of the Pan American Health Organization/World Health Organization (PAHO/WHO) and who serves as Director of the Latin American and Caribbean Center on Health Sciences Information (BIREME/PAHO/WHO) since August 2016, will retire on October 31, 2021.
In 1981, González, a Cuban citizen, obtained a degree in medicine from the Universidad de la Habana, in Cuba. In 1986, he received a specialization degree in Clinical Toxicology from the Kirov Academy in Leningrad, Russia, and in 1987 was a fellow at the National Institute of Toxicology and Forensic Sciences in Seville, at the Hospital Clínico de Barcelona and at the National Toxicology Center in Madrid, Spain. He then received the title of Master of Science in Clinical Toxicology from the Official College of Chemists in Seville, Spain.
Diego González began his professional career in 1986 as Head of Toxicology Information at the National Toxicology Center of Cuba. He began his collaboration with PAHO/WHO in 1991 as a national professional and in 1995 he joined the Organization as an Environmental Toxicologist at the Pan American Center for Human Ecology and Health in Mexico. He later held this same position at CEPES – Center for Sanitary Engineering and Environmental Sciences in Peru. In 2003, at PAHO/WHO Brazil he was a Toxicologist and later Advisor on Sustainable Development and Environmental Health.
From June 2011 until July 2016, he served at PAHO/WHO Mexico as Advisor on Sustainable Development and Environmental Health, having been Interim Representative for a few months.
They were five years of intense work and continuous technical cooperation with Brazil and the countries of Latin America and the Caribbean, characterized by the Terms of Cooperation (TC) in progress with PAHO Brazil and projects in the area of ​​information and knowledge management in health. Noteworthy are the TCs with the Ministry of Health of Brazil (especially the TC93, which aims to develop and improve BIREME) among others, through PAHO Brazil, in addition to projects with PAHO and WHO Headquarters and with the regional offices.
From 2016 to 2019, Diego González was in Argentina, Bolivia, Chile, Colombia, Cuba, El Salvador, Ecuador, Guatemala, Haiti, Honduras, Mexico, Nicaragua, Panama, Paraguay, Peru, and Venezuela, as well as several in Brazilian states, promoting BIREME's products and services and seeking to attract technical cooperation projects.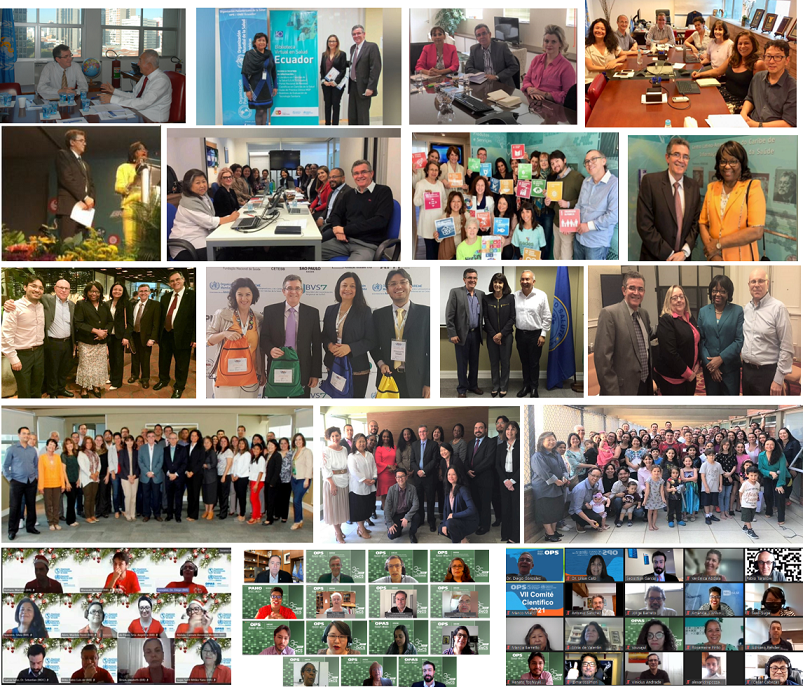 Diego González has always recognized, uplifted, praised, and thanked the performance and work of his team, whether in internal meetings with BIREME collaborators, as well as in events with actors from PAHO/WHO Headquarters, Representations and Centers, and meetings with institutional partners. His concern for the personal and collective well-being of the employees has always been constant. Through lectures, training in Team Building, workplace exercise activities, and lots of dialogue, his goal has always been to keep the team motivated, integrated, happy, and working in the best possible environment. And mainly, through internal communication actions, using established forums for information sharing, multiplatform applications, and the constant updating of institutional communication channels.
Considering the remote work imposed by the pandemic – since March 2020 – González was successful in monitoring and meeting the development goals of BIREME's Biannual Work Plan 2020-2021 (PTB 20-21) and the preparation of PTB 22-23, through collective and individual virtual meetings. The monitoring of the various projects and TCs is always done in biweekly meetings with all those responsible for their management and execution, in addition to constantly updated internal controls that report the percentages of progress, which are shared with counterparts, so that they can follow the advances in a transparent and open manner.
Directly assisted by the team of Managers in the technical areas – Customer Service and Information Sources (Veronica Abdala), Methodologies and Information Technologies and Health Terminologies (Renato Murasaki) – and Administration and Planning (Silvia Almeida de Valentin), in addition to the area of Scientific and Institutional Communication (Lilian Calò) and their teams, in addition to the director's secretary, Diego González kept the Center's work uninterrupted in all areas, with the delivery and updating of scientific information and communication products and services, through components of technological innovations that accompany the international standards in information and knowledge management.
It is also worth highlighting, during his administration, the holding of the 10th Regional Congress on Information in Health Sciences (CRICS10), in December 2018. With the central theme "Towards the achievement of the 2030 Agenda: contributions of evidence and knowledge", the Congress brought together more than 500 participants from 30 countries in discussion forums with seven thematic axes, magisterial conferences, satellite events, poster sessions, interviews with lecturers, and the launch of new products and services.
Sebastian Garcia Saisó, Director of the Department of Evidence and Intelligence for Action in Health (EIH) highlighted that "the last two years of Diego González's administration will be marked by the efforts imposed by the COVID-19 global pandemic, when even so, BIREME achieved effective results in its management and operation, and in the implementation of its technical cooperation program, even with its employees working remotely, in emergency. Institutional relations with the Brazil Ministry of Health, Health Secretariats, Fiocruz, and other institutions supporting BIREME in Brazil and in the countries of the Region are maintained and are expected to be further strengthened in the near future with the new administration after Diego González's retirement, as he is widely recognized by different actors inside and outside the Center".
"It is surprising how time passes," said Socorro Gross Galeano, PAHO/WHO Representative in Brazil. "With Diego González as Director of BIREME, we strived and achieve important results in the management of scientific and technical information in health in response to the country's health priorities, since BIREME also contributes with the information component in some TCs coordinated by PAHO/WHO Brazil, even with continuous achievements during the Covid-19 global pandemic due to the already virtual performance of BIREME. His style, enthusiasm and great ability to build networks of collaborators are unique and will always be remembered. I wish you a lot of success and joy in your new stage of life".
"BIREME and PANAFTOSA, which are located in Brazil, although in the states of Rio de Janeiro (AFT) and São Paulo (BIR), have always acted together when necessary, in scientific information management projects and learning courses in support of veterinary public health topics, such as food safety, zoonotic diseases and foot-and-mouth disease and in institutional lines of action. Diego González Machín, during his five years directing BIREME, has kept this relationship strengthened with a lot of commitment, enthusiasm and openness", pointed out Ottorino Cosivi, Director of PANAFTOSA.
All from Center and the Organization wish Diego González many congratulations in his new stage of life; we invite you to leave him farewell messages in this space.
Access the video in honor to Diego González as Director of BIREME.