The next steps to advance with the initiative of a subregional Caribbean Virtual Health Library (VHL) were discussed during the two coordinated online meetings that occurred on November 9th, and 11th– 12th in coordination with BIREME/PAHO/WHO, PWR Guyana, MedCarib Network Coordination.
Sebastián Garcia Saiso, Director of the Department of Evidence, and Intelligence for Action in Health (EIH) of PAHO/WHO and Acting Director for BIREME/PAHO/WHO, in both meetings, welcomed the participants and highlighted the importance of this initiative in the Caribbean Region strengthening the continuous and historic support of the Center to the Caribbean countries in the field of the management of technical and scientific information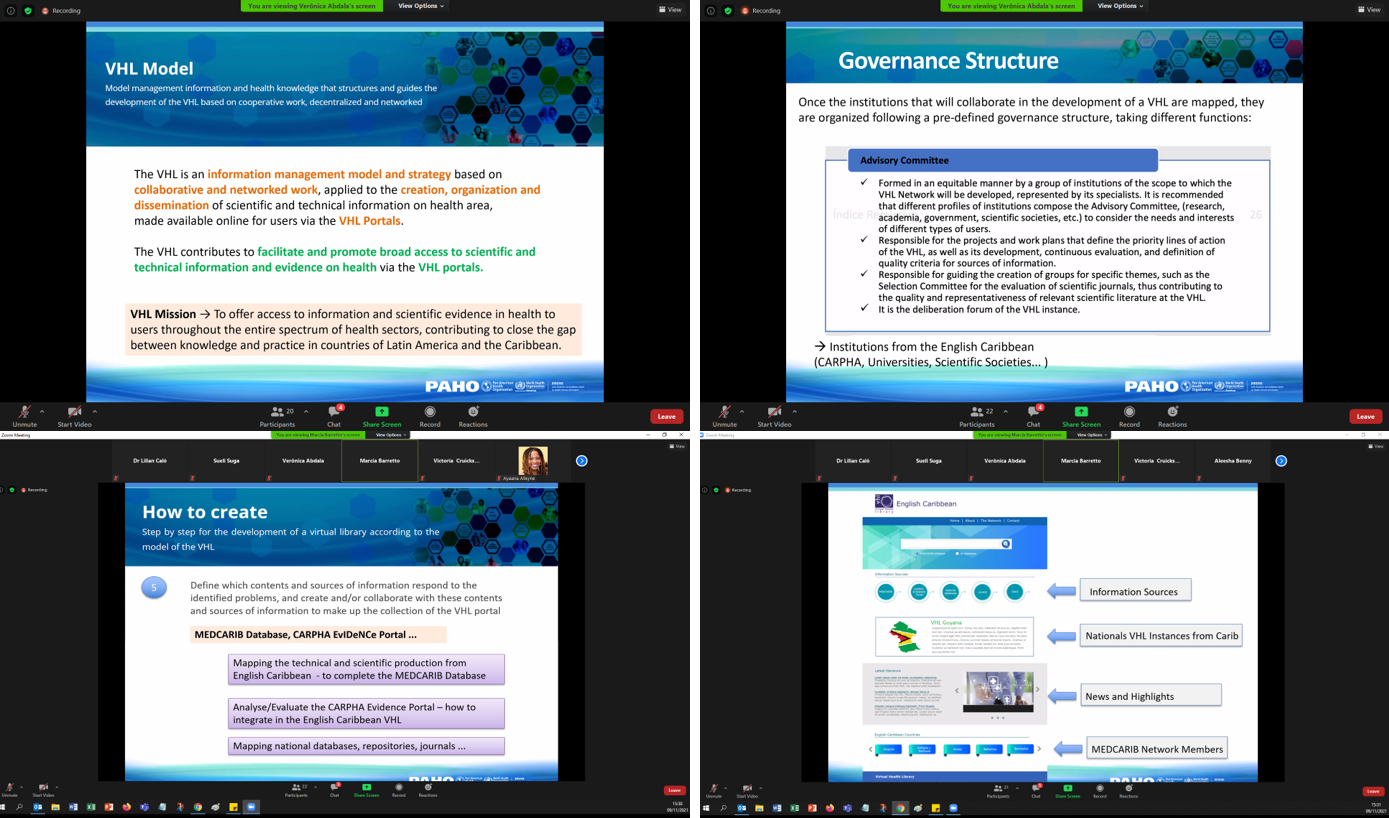 The first meeting, on November 9th, had the participation of MedCarib network members represented by Barbados, Belize, Guyana, Grenada, Jamaica, and Suriname. BIREME team presented the foundation of the VHL model, based on three pillars: network of institutions, sources of information and user needs, including promotion and communication, as well as the FI-Admin which is currently the basic tool to manage databases. Also, the main challenges and advantages to implement the Caribbean VHL as a subregional initiative were highlighted.
Victoria Cruickshank-Taylor, regional coordinator of MedCarib network, stressed the importance of the MedCarib network for the health information the English Caribbean countries.
The MedCarib network members were invited to participate in the second meeting, that was considered as a pilot project that could be replicated for other countries in the Caribbean Region.
In the workshop to revamp the Guyana VHL, the second meeting, the presentations of BIREME team and of MedCarib network coordinator were conducted to expand and detail the topics presented in the first meeting, so that the participants could have a better understanding of the available VHL tools.

Besides the participants of the PAHO/WHO Guyana and of Guyana health institutions, the MedCarib network members of Jamaica and Suriname also attended the workshop.
The participants considered the meetings very important to the strengthening of the joint initiatives towards the sustainability of the VHL and MedCarib networks. The next steps were shared and the corresponding plan of action, including a calendar for activities in 2022 are being coordinated in other to be concluded in the following weeks.