Paraguay is the newest country with its own e-BlueInfo collection, joining Brazil, Colombia, El Salvador, Guatemala, and Peru. On December 13th, the Ministry of Public Health and Social Welfare, through the Directorate of Primary Health Care (APS) and the National Institute of Health in the role of National Coordinating Center of the Virtual Health Library in Paraguay (VHL PY), carried out the official launch of the e-BlueInfo application in the country.
In addition to the country's health authorities and teams, the launching ceremony was attended by the Interim Representative of PAHO/WHO for Paraguay, Haydee Padilla, and the Director of the PAHO/WHO Department of Evidence and Intelligence for Action in Health (EIH) and Acting Director of BIREME/PAHO/WHO, Sebastián Garcia Saisó.
The presentations and statements at the launch session highlighted the facilities of the e-BlueInfo application, an innovative platform for accessing information and scientific evidence in health to support work processes and decision-making by health professionals and managers, with special emphasis on primary health care.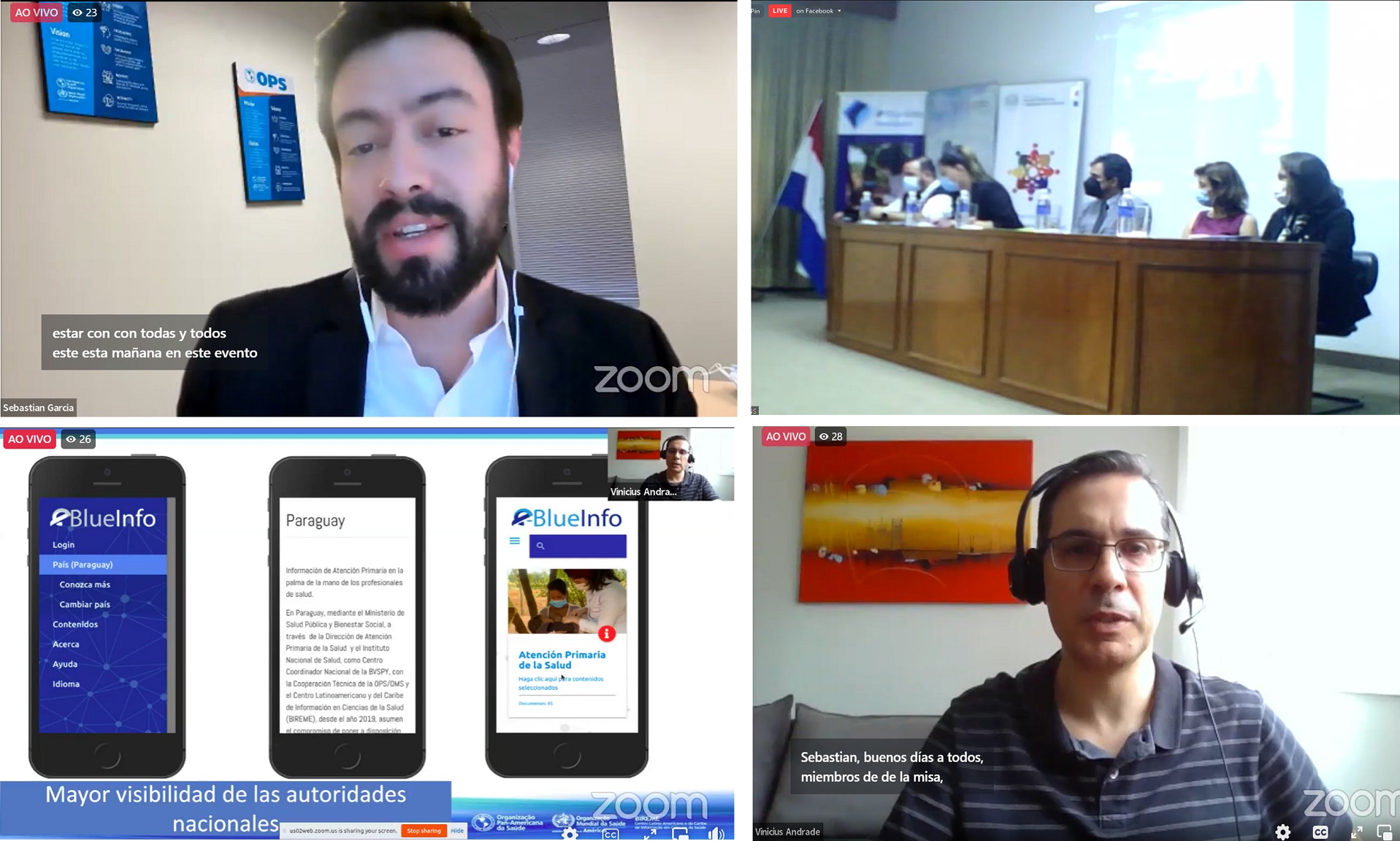 e-BlueInfo is a free application available for Android and iOS systems that puts reliable, up-to-date information in the palm of healthcare professionals' hands, selected by experts from the Ministries of Health and from educational and research institutions in the countries. It also includes the PAHO/WHO Guidelines.
e-BlueInfo is developed by BIREME/PAHO/WHO together with a Network of institutions coordinated by the Ministries of Health. Representing the technical team of BIREME/PAHO/WHO, Vinicius Antônio gave a presentation highlighting the functionalities of version 2.0 of the application, in addition to the process flows for the construction and management of collections, and governance.
Each country that joins e-BlueInfo must establish its Local Governance Committee, which is responsible for managing the collection of primary health care content of interest and relevance to health professionals, students, and managers in the country. In Paraguay, the Primary Health Care (PHC) Directorate of the Ministry of Health is responsible for this Local Committee in cooperation with the National Coordination of the Paraguay VHL.
e-BlueInfo Paraguay brings together 86 documents on primary health care distributed in four collections:
Normative Documents of PHC Management that provide guidelines, standards, technical specifications, codes of best practices, and regulations of PHC Management;
MSPYBS Official Documents such as laws, policies, regulations, and standards with a comprehensive health vision within the framework of the PHC Strategy;
Documents by Life Course for the handling of users classified according to the different stages or situations that begin before conception and continue throughout their lifetime; and
Transversal Documents that reinforce Paraguay's PHC strategy.
Learn more about each country's content and PAHO/WHO guidelines in the application versions for Brazil, Colombia, El Salvador, Guatemala, Paraguay, and Peru.
Related news
BIREME launches version 2.0 of the e-BlueInfo application. BIREME Bulletin n° 54. Available at: https://boletin.bireme.org/en/2021/04/03/bireme-launches-version-2-0-of-the-e-blueinfo-app/
The development of a product with regional governance: e-BlueInfo. BIREME Bulletin n° 47. Available at: https://boletin.bireme.org/en/2020/09/06/the-development-of-a-product-with-regional-governance-e-blueinfo/
El Salvador joins the e-BlueInfo health information application. BIREME Bulletin n. 43° Available at: https://boletin.bireme.org/en/2020/05/03/el-salvador-joins-the-e-blueinfo-health-information-application/
e-BlueInfo: information in the palm of the hand. BIREME Bulletin n° 28. Available at: https://boletin.bireme.org/en/2019/01/28/e-blueinfo-information-in-the-palm-of-the-hand/