In order to promote the publication of scientific research results and clinical observation in Nicaragua and to train participants in the main concepts governing Scholarly communication in health sciences, a series of webinars on this topic was organized. The trainings are part of the Action Plan for the dissemination of the Nicaragua VHL, a project involving the Latin American and Caribbean Center on Health Sciences Information (BIREME/PAHO/WHO), PAHO/WHO Nicaragua and the National Autonomous University of Nicaragua in Managua (UNAN Managua).
As a prerequisite to accompany the webinars, BIREME recommends and makes available an online Introductory Course on Scholarly Communication (in Spanish) that is published in the PAHO/WHO Virtual Campus of Public Health. It takes about 20 hours of dedication to complete and obtain the certification, but it is also possible to choose only the classes you are interested in.
The first webinar was held on April 20 and the topic was "Ethics and Integrity in Research". The webinars on science communication are led by Lilian Calò[1], Science Communication Coordinator at BIREME. The event gathered about 130 participants, and consisted of two parts: a presentation, followed by questions and answers, and then a series of exercises to consolidate the concepts presented.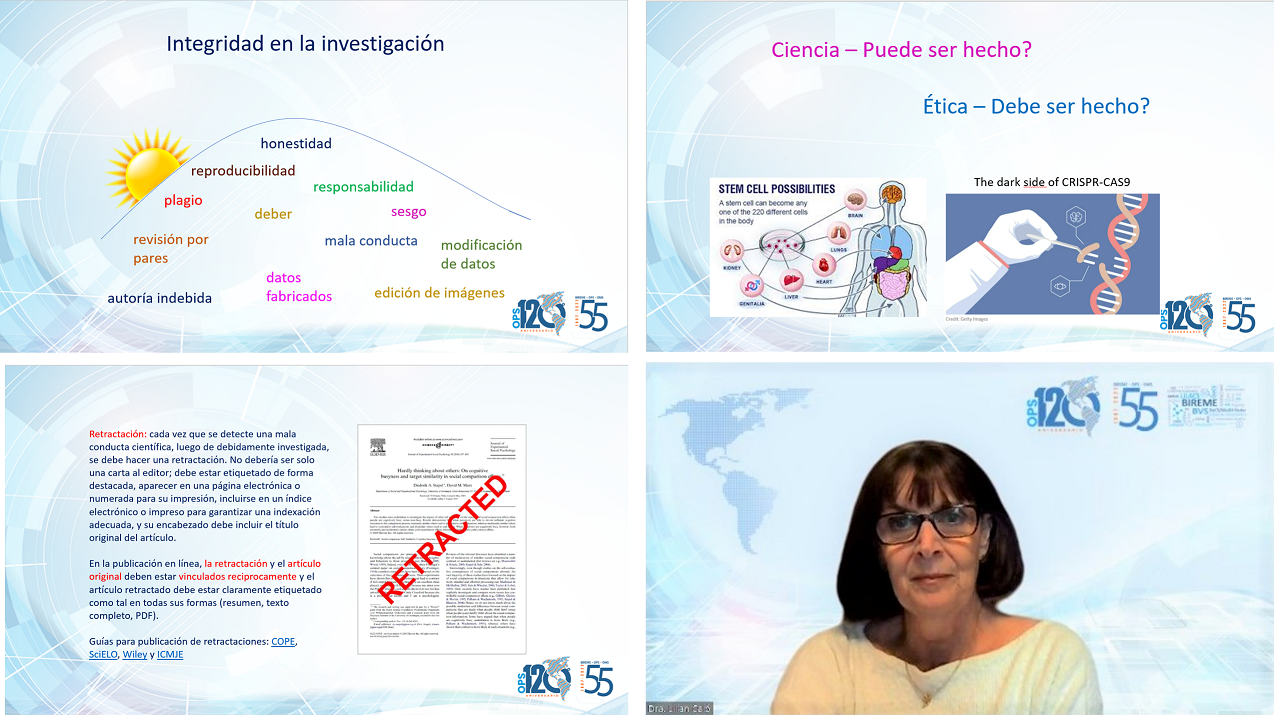 The presentation addressed various aspects of ethics and integrity in research and scientific publishing and the mechanisms that organizations, funding agencies, research institutions, and scientific journals have at their disposal to curb unethical practices. According to Lilian Calò, "it is necessary to raise awareness among all those involved on how to improve transparency and accountability at every stage of the research process, from sample selection to the publication of the findings".
Participants showed their interest in the topic by asking many questions – which were answered at the end of the webinar – and comments recorded in the Zoom platform chat, such as "I deeply appreciate the time you dedicated to the Webinar, it was excellent", Mauro Giusto Largaespada; "Excellent, thank you very much for sharing valuable information", Claudia Lizeth Rocha; "Congratulations and thank you, Dr. Lilian Caló, excellent presentation", Marcos Morales; "Excellent explanation on plagiarism detection", Arlen Reyes; "Thank you very much for sharing your knowledge", María Román, and others.
As usual, in the trainings promoted by BIREME, in favor of open access to knowledge, the recording of the webinar, the PowerPoint presentation (in PDF format), and the proposed exercises are sent to all participants through the project coordinators at PAHO/WHO Nicaragua and UNAN Managua.
The next webinars are scheduled to take place on May 11, with the theme "Science evaluation; impact indexes" and on May 25, "The dimensions of open science and the future of scholarly communication" and will be notified days before the respective dates on BIREME's social networks.
[1] Lilian Calò holds a PhD in Biochemistry from the Universidade de São Paulo, Brazil. Her CV is available.