Health Information Networks are essential to strengthen and extend the work carried out by BIREME through the Virtual Health Library (VHL), the Latin American and Caribbean Literature database on Health Sciences Information (LILACS), the Descriptors in Health Sciences thesaurus (DeCS/MeSH) and all information sources that contribute to the democratization of access and visibility of scientific knowledge in health in Latin American and Caribbean countries (LA&C).
These networks bring together information professionals, editorial teams, and health professionals from cooperating institutions from all LA&C countries, the United States, Spain, Portugal, Mozambique, and other countries, which need coordination, planning, mobilization, and spaces for exchanging experiences.
From the creation of BIREME to the present day, all its products, services, and information and knowledge management actions are maintained through cooperation and networking, based on the principle of developing local capabilities for use and application of the methodologies, technologies, tools, and information systems that make it possible to update LILACS and all the information sources that make up the collections of VHL Instances. Capacity building, coordination of collaborative work and the exchange of experiences among members of the LA&C Health Information Networks are the focus of meetings held regularly within the Network, following an annual calendar.
The 2022 meeting calendar began in March with weekly meetings on three thematic axes – 1) Coordination of LILACS and VHL Networks; 2) Best practices of the editorial process and 3) Access to and use of information. In total, 35 coordination meetings are planned.
In addition to the network's meetings, another 4 training sessions are planned – VHL information sources for the Brazilian Network and for the Latin American Network of Information in Health Sciences; Document indexing according to LILACS Methodology; and Methodological types of study according to LILACS Methodology and VHL search filters. A total of 46 sessions was held.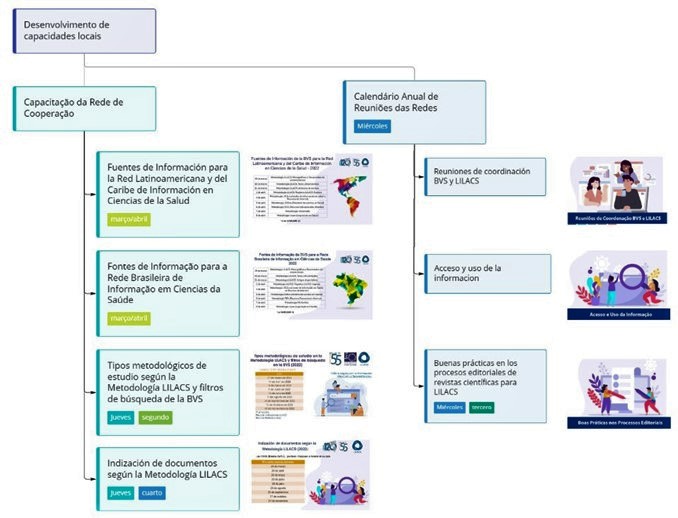 Results for the first half of 2022
According to the calendar for 2022, through June, 8 coordination meetings of the LILACS and VHL Network were held, reaching an average of 96 participants per meeting, and 46 training activities that reached an average of 44 participants per activity.
Training on VHL information sources
These trainings took place from March 29 to April 8 and presented the following methodologies: LILACS (bibliographic records), LIS (internet resources), DirEve (scientific and technical events), Multimedia (videos, audios, images, and presentations), OER (open educational resources) and LEYES (health legislation) totaling 9 sessions in Portuguese and 9 in Spanish. In the Portuguese session, an average of 31 participants from 5 countries participated, and in the Spanish session, there were an average of 48 participants from 19 countries.
Training on methodological types of study according to the LILACS Methodology and VHL search filters
Training promoted by the LILACS Indexers Network and the References Network, focusing on the analysis of the types of study design for the identification and indexing of these documents, and the methodology adopted for the creation of the search strategy to be used in databases that adopt the LILACS Methodology. Four sessions were held with the themes: a guide to clinical practice, an assessment study on health technologies, economic evaluation studies, and systematic reviews and meta-analyses. There was on average 41 participants from 12 countries.
Training on document indexing according to the LILACS Methodology
This activity was developed to introduce newly integrated professionals into the cooperation network and review guidelines for more veteran professionals. Four sessions were held in the first semester on: LILACS indexing – basic principles, primary and secondary descriptors, "check tags", and types of publication. There was on average 100 participants from 20 countries. Learn more (in Spanish).
 1. VHL and LILACS coordination meetings
Topics aimed at the management and coordination of the VHL and LILACS at the national and thematic level. In addition to presentations by professionals from different areas of BIREME, expert speakers were also invited, and experiences recognized by the network as successful cases were presented.
Eight sessions were held on the following topics: 1) The importance of cooperation networks for the development of BIREME's information products and services; 2) Governance of networks; 3) Mobilization of Resources for collaborative work; 4) Pillars of a VHL instance; 5) The importance of bibliographic control; 6) Action plan to strengthen the VHL; 7) How to register non-bibliographic contents in the VHL; and 8) Integration and immigration of databases in the VHL.
The following experiences were presented:
Network Governance of the Nursing VHL: Dr. Francisco Lana
Mobilization of resources for events and volunteering policy of the MTCI network: Dr Natália Sofia Aldana
Publication of scientific journals in Honduras: Dr. Martha Cecilia Garcia
The VHL and the country's health priorities, by Ana Lorena – Colombia VHL
The challenges for expanding the Network, by Camila Belo – Cancer Prevention and Control VHL
Promoting institutional content beyond the institution – by Alicia Ríos – Ministry of Health of Peru VHL
Bibliographic control in ​​Nursing in Colombia by Prof Wilson Cañon, coordinator of the Nursing VHL Network in Colombia
Colombia VHL Action Plan, by Ana Lorena, coordinator of the Colombia National VHL
Public Health Brazil VHL Action Plan, by Tatiane Lira Freire Lopes, coordinator of the Public Health Brazil VHL
Non-bibliographic contents of the Municipal Health Department of São Paulo VHL, by Marine Arakaki
Migration of the Bolivia VHL databases, by Marilin Sánchez Rada
The coordination sessions had an average of 96 participants per session from 31 countries. Learn more (in Spanish).
2. Best practices in the editorial processes of scientific journals for LILACS
The best practice sessions were restructured to present detailed and practical content for analysis and improvement of formal aspects and content of scientific journals in the health area. The topics covered were LILACS trajectory- from print to Open Science, journal digital identity, article digital identity, and editorial policy aligned with digital practices. The activity had an average of 166 participants from 21 countries. Learn more (in Spanish)
3. Access to and use of information
Meetings to strengthen networks interested in current and relevant topics for the access and use of health information. Topics covered: integrated search interfaces- integration of databases into the VHL regional index, priority health topics, responsible metrics; with Dr Alejandro Uribe, Science impact indicators; with Dr Lílian Calò, The dimensions of open science and the future of scientific communication; also with Dr Lílian Calò, on the Nicaragua VHL.
In the session on bibliometric indicators, BIREME's experience with the infometrics of the Honduran Medical Journal: bibliometric indicators, presented by Dr Jackeline Alger. The activity had an average of 60 participants from 21 countries. Learn more (in Spanish).