Established in 2011 by the Pan American Health Organization (PAHO) to emphasize the importance of health promotion for the well-being of people and communities in the Region, the Wellness Week in the Americas 2023 focused on care and its relationship with health and well-being. From September 9th to 15th, the campaign "The Care We Need, the Care We Want" called on governments, legislators, communities, and civil society to take an active role in improving care systems and supporting their equitable redistribution.
The launch event took place on September 11th, 2023, in Bogotá, Colombia, and was marked by the significant participation of Latin American female leaders. The panel "Experiences of Local Governments in Implementing Care Policies" featured Ms. Alicia Paz Rodriguez, Mayor of Carmen, San Nicolás Municipality, Honduras; Ms. Sara Armella Rueda, Mayor of El Puente, Tarija, Bolivia; and Ms. Yeimy Carolina Agudelo Hernández, Mayor of Kennedy, Colombia. The moderation was conducted by Gerry Eijkemans, Director of the Department of Social Determinants and Environmental Health Equity at PAHO/WHO, who emphasized in her speech, "Local governments are essential to ensuring that care policies are effectively implemented and accessed by communities and peoples." The closing was led by the Mayor of Bogotá, Colombia, Ms. Claudia López.
In addition to healthcare managers from Colombia, the event's opening also featured Gina Tambini Goméz, PAHO/WHO Representative for Colombia, and via video, Dr. Jarbas Barbosa, Director of PAHO/WHO. In his presentation, Dr. Jarbas Barbosa emphasized that although children, the elderly, and people with illnesses or dependencies often require more care, it is important to recognize that all people need care throughout their lives.
"We have the mission of recovering from the pandemic with a fairer and stronger society than before – that's why it's essential to address care as a human right and as a social responsibility. However, at this moment, the social organization of care is unjust due to economic factors and gender inequality – as women continue to bear most of the responsibility for care," emphasized the Director of the Organization.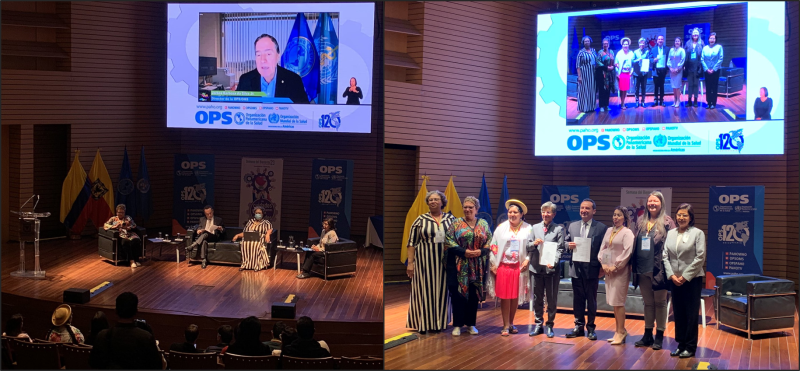 The campaign "The Care We Need, the Care We Want" marked Wellness Week 2023 with the following objectives:
Advance towards creating comprehensive, equitable, and sustainable care systems in countries;
Promote community participation by raising awareness of the social organization of care as a right;
Encourage and publicize successful initiatives in the Americas, especially at the local level; and
Recognize the fundamental role of individuals and community care networks.
Links of interest:
Director's Declaration Dr Jarbas Barbosa – Wellness Week 2023
Wellness Week 2023 – PAHO/WHO | Pan American Health Organization Campaign Page