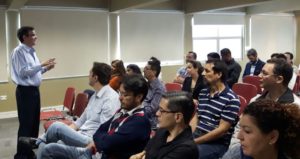 The learning actions for continued development of competences for staff of the Latin American and Caribbean Center on Health Sciences Information (BIREME) have been fostered by its Director, Dr Diego González Machín, since July 2016, when he took office of the Center. One of the goals is to impact on a better working environment and organizational climate, required to improve the technical cooperation and management of BIREME, which will celebrate its 50th anniversary in 2017.
Some lines of action involve the participation of external specialists, who share health topics with the staff, according to the official health calendar of the Pan American Health Organization/World Health Organization (PAHO/WHO). Other lines are related to the participation of the Center staff, who share information and knowledge based on their experiences, roles and tasks developed.

Based on these exchanges of information, the communication channels of BIREME are updated, providing news with photographs, agendas and contents, which are sources of  information that can be later searched by everyone.
Coffee with Ideas to share and generate knowledge
In October and November, BIREME promoted the Coffee with Ideas, primarily designed to create a space for technical and administrative staff to present themes, which – if favorably evaluated – could be implemented as lines of action, projects, products and services developed by the Center.
Coffee with Ideas also aims to share information, experiences, ideas and knowledge to find solutions for different situations and challenges. In addition, it is an opportunity to celebrate together the birthdays of the month.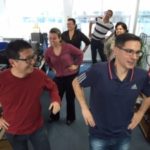 Regarding the monthly events, the Center Director stated "Besides the Coffee with Ideas, which expands the historic celebrating meetings, the health break and internal training activities will be a set of actions carried on to contribute for continued improvement of the organizational environment and development of staff competences, aligned with the methodology of BIREME's Learning and Informed Environments".