The Rede de Alimentação e Nutrição do Sistema Único de Saúde (RedeNutri) [Food and Nutrition Network of the National Health System] is a virtual place where users can exchange information, experiences and reflections on the implementation strategies of the Política Nacional de Alimentação e Nutrição [National Food and Nutrition Policy] (PNAN) of the Brazilian Ministry of Health. It was created as a virtual permanent education strategy and it went on to become a tool for communication, exchange of experiences and permanent education, where the major topics on this agenda are analyzed. It is a place open to discussion and social control actions are valued in all stages of implementation of PNAN.
One of the main goals of RedeNutri is to create a permanent place of reflection on eating habits and nutrition as a social determinant of health and a component for developing intersectoral public policies.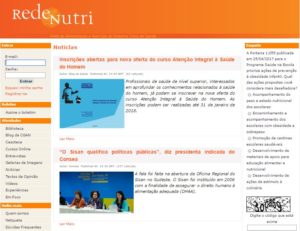 RedeNutri was launched in 2009, and it promotes and enables interaction and sharing of knowledge among its more than 35 thousand members. It is possible to organize, publish and disseminate relevant information on eating habits and nutrition with the tools available, using pieces of news, documents, videos, opinion articles, courses, case studies, discussion forums and blogs.
"RedeNutri has established itself as a community of good practices in eating and nutrition habits at the Brazilian Unified Health System (SUS). The network gathers several professionals from different areas, such as nutritionists, managers, students, individuals and/or groups and communities, researchers and other stakeholders on this topic. These members work in both public and private organizations, universities and non-government organizations all over Brazil. It is precisely in this diversity that the network finds its greatest asset, because the variety of social, geographic, cultural and professional contexts qualifies the debates and proposals, which are available and offered by the Online Collaborative Space", says Bernardino Vitoy, RedeNutri's focal point at PAHO Brazil.
RedeNutri is the result of a partnership between the Observatório de Políticas de Segurança Alimentar e Nutrição (OPSAN/UnB) [Observatory of Food Safety and Nutrition Policies], the General Coordination of Food and Nutrition of the Ministry of Health (CGAN/DAB/MS) and the Pan American Health Organization/World Health Organization (PAHO/WHO) in Brazil. The Portal RedNutri was developed in partnership with the Latin American Center and Caribbean of Health Sciences Information (BIREME/PAHO/WHO), as part of the Virtual Health Library (VHL), a model of information and knowledge management operated by BIREME/PAHO/WHO at regional and international levels.