With the goal of extending and strengthening the bibliographic control of Latin American and the Caribbean literature, developing local capacities and improving networking on the VHL, BIREME is organizing virtual meetings to the LILACS database Cooperation Network on two different topics – coordination and indexing.
The main purpose of the coordination meetings is to review the management processes of the LILACS collaboration network and the collaboration flows. There are 11 meetings scheduled and they will deal with specific technical and management processes, such as bibliographic control status at LILACS, flow of the LILACS-Express initiative, network and users' management, evaluation and selection criteria of LILACS journals, monitoring contribution, migration of national databases, data interoperability and contribution flows.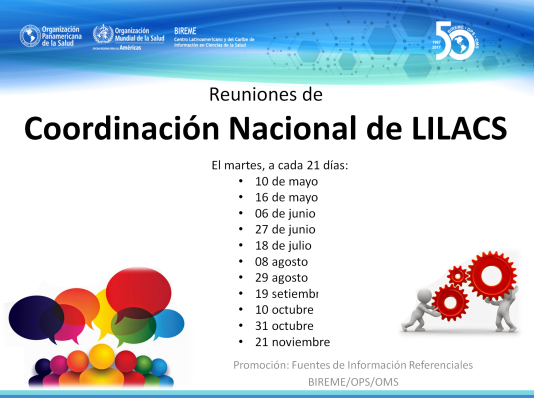 At the end, the coordinators will produce national reports on the contribution made to LILACS and to their national databases. They will also work on updating and validating LILACS national criteria and will re-evaluate LILACS collection for some criteria, such as punctuality and open access to documents.
Together with the coordinators of national networks, the PAHO/WHO Knowledge Management Centers in the countries also take part at the meetings, playing a catalyst role and supporting BIREME and the network at a national level.
This initiative started in May 2017 and since then coordinators from Argentina, Bolivia, Chile, Colombia, Costa Rica, Cuba, Ecuador, Guatemala, Honduras, Mexico, Panama, Paraguay, Peru, Puerto Rico, Dominican Republic, Uruguay and Venezuela have attended the meetings.
On the other hand, the meetings on indexing have the aim of training professionals for indexing documents according to LILACS Methodology, improving and enhancing the use of indexing rules and guidelines for the librarians of LILACS cooperating centers and national databases that use that methodology.
The topics discussed during these sessions include content analysis, the use of primary and secondary descriptors (DeCS/MeSH), pre-codified descriptors, types of publications, qualifiers and descriptor coordination.
In addition to the presentations, the participants also carried out practical indexing exercises and received customized feedback on their activities. Certificates were also awarded.
The training sessions started on March 30, 2017, with representatives from Argentina, Bolivia, Brazil, Chile, Colombia, Cuba, Ecuador, Spain, Guatemala, Honduras, Mexico, Nicaragua, Panama, Peru, Paraguay, Uruguay and Venezuela.
This training workshop will contribute to improve the content description of documents on VHL databases, making it easier to carry out better quality searches and to retrieve information that is more specific.
"Initiatives like this workshop strengthen networking and the creation of strategic partnerships", said Dr. Diego Gonzalez Machín, Director of BIREME. He also stated, "This is the only way to reach synergy, increase capabilities in the countries on information management and to position the Center in its function as a PAHO/WHO specialized institution in Latin America and the Caribbean."