On June 20 and 21st, 2017, Marcia Barretto (ITI/GA) represented the Latin-American and Caribbean Center for Health Sciences Information (BIREME), in Port of Spain, Trinidad & Tobago, in the meeting "Regional consultation to develop a knowledge sharing mechanism for non-communicable diseases and vectorborne diseases for CARPHA Member States". The event was attended by representatives from Anguilla, Barbados, Belize, Guyana, Jamaica, Saint Kitts & Nevis, and Trinidad & Tobago. In this meeting they discussed specifically the selection criteria for relevant documents to support decision-making on NCD and VBD, harvesting processes for such documents, and a sustainability model for CARPHA EvIDeNCe portal.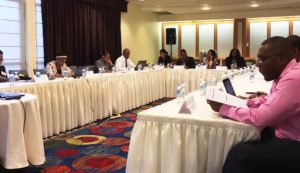 On June 22nd, a workshop was held at the library of the Faculty of Medical Sciences – University of West Indies, in Port of Spain, Trinidad & Tobago, with the goal of revitalizing the database MEDCARIB, which is a cooperative product of the Caribbean English-speaking countries participating in the MEDCARIB Network. Barbados, Belize, Guyana, Suriname, and Trinidad & Tobago were present.
The representatives of the Virtual Health Library Trinidad & Tobago (VHL TT) met on the 23rd to discuss the current situation and possible short-term and medium-term alternatives for its revitalization and sustainability mechanisms.
These actions are within the context of the project between BIREME and CARPHA for the development of CARPHA EvIDeNCe Portal, considering the strengthening of MEDCARIB Network members, which includes two PAHO/WHO priority countries: Guyana and Suriname.
About CARPHA EvIDeNCe Portal
The CARPHA EvIDeNCe Portal is a continuously updated repository of research results, syntheses, and relevant documents for Caribbean public policies. The portal includes clinical research, investigation on population health and health systems, but excludes basic/biomedical research. The types of syntheses included are abstracts on public policy evidence, brief syntheses, overview of systematic reviews, systematic reviews, and economic evaluations. The policy relevant documents originate from CARPHA (Caribbean Public Health Agency), CARPHA Member States and the World Health Organization. The EvIDeNCe portal also includes a guided overview of Caribbean data sources, pre-appraised research evidence and other types of information, tools, resources and training material to support evidence-based decision-making.