BIREME's technical cooperation develops information products and services applied to management, access and use of information and evidence in health, as well as to capacity building in Latin American and Caribbean countries. Throughout 2017 the Center led and took part in numerous capacity building activities for researchers, graduate students, managers and health professionals, through face-to-face and distance learning.
In partnership with PAHO/WHO and the Virtual Campus for Public Health (VCPH), education projects were developed for distance learning courses on diagnosis, prevention and treatment of diseases of poverty in the Americas, such as Rabies, Trachoma, Visceral and Tegumentary Leishmaniasis, Schistosomiasis and Helminthiases. In addition to these, a self-learning distance course on Access and Use of Health Information and Evidence-Informed Health Policies was updated and published at the VCPH.
In order to expand and strengthen the bibliographic control of the literature in the Region, develop local capacities, and strengthen the VHL network, in 2017 BIREME promoted a series of virtual meetings for the LILACS database cooperating centers, dedicated to coordinating the base and indexing content. There was a total of 14 meetings held between March and December 2017, aimed at participants from Argentina, Bolivia, Brazil, Chile, Colombia, Costa Rica, Cuba, Ecuador, Guatemala, Honduras, Mexico, Nicaragua, Panama, Peru, Paraguay, Puerto Rico, Spain, Uruguay and Venezuela.
BIREME, in collaboration with the Country Offices from Latin American and Caribbean countries (LA&C), carried out about 40 capacity building events for users on Access and Use of Information and VHL Promotion. More than 12 face-to-face training activities were offered in Brazil, Mexico, Ecuador, Paraguay, Panama, and Mozambique. Specifically, in cooperation with PAHO Brazil, participation occurred in eight scientific events through mini-courses in which the products and services developed by the Center were presented.
BIREME´s leadership is acknowledged in many aspects including scientific communication, strengthening of health publications and capacity building to improve quality and quantity of scientific reports. In order to stimulate the dissemination of research results from LA&C countries, three 20-hour theoretical and practical Communication and Scientific Writing courses were provided in 2017. Professionals from the then PAHO Office of Knowledge Management, Bioethics and Research (KBR) gave support to the courses in Mexico and Ecuador.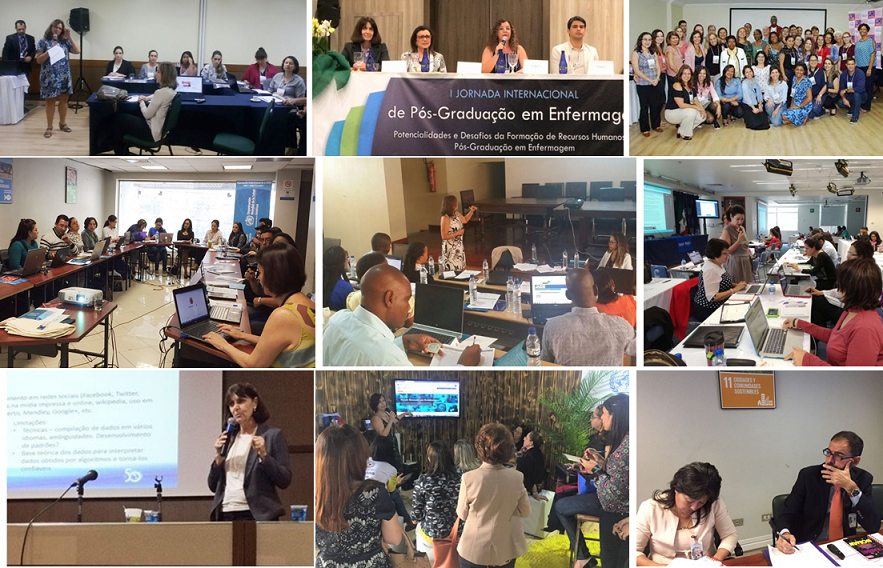 These are the events held in different countries:
November 13 – Lecture on Access to Health Information, for 30 participants of the II Curso de Extensão em Pedagogia Hospitalar, Department of Pediatrics – UNIFESP, in Sao Paulo, SP, Brazil;
October 24 – Lecture on Assessment of Reproducibility in Research in the Age of Preprints, for 25 students of the Graduate Program in Pathophysiology and Toxicology, Department of Clinical and Toxicological Analysis, Faculdade de Ciências Farmacêuticas, Universidade de São Paulo; Sao Paulo, SP, Brazil;
September 18 – Course on Access and Use of Evidence in Decision-Making in Health, for 60 undergraduate medical students and professors, during the FELSOCEN Conference, at the Universidad Católica de Paraguay, in Asuncion, Paraguay;
September 13 to 15 – Training on access, use and evaluation of scientific information and Course on Scientific Communication and Writing in Health, for researchers, professors, and managers, during the Jornada Nacional de Investigación, Regulación y Desarrollo de la Investigación Científica, organized by the Ministry of Public Health, with support from PAHO/WHO and BIREME, in Quito, Ecuador;
September 11 – Class on Scientific Communication, for 30 students of the II Curso de Extensão em Pedagogia Hospitalar, Department of Pediatrics of UNIFESP, in Sao Paulo, SP, Brazil;
August 2-4 – Course on Scientific Communication for 29 employees of the Fundação Nacional de Saúde – FUNASA, Brasilia, DF, Brazil. This course was the first of a series to be developed in other regions of the country to assist professionals working for the Foundation in other states.
6-8 June – 1st Advanced Workshop to Prepare Search Strategies on Health Information, for VHL Referral Network, which brought together 50 professional experts. Promoted by Coordenação Geral de Documentação e Informação, Ministry of Health, Instituto Nacional do Câncer, and BIREME, in Rio de Janeiro, RJ, Brazil;
June 1st – Course on Literature Review in Public Health: Retrieval of scientific evidence from the main sources of information in health, for 21 participants of the Programa de Treinamento em Epidemiologia Aplicada aos Serviços do SUS, in Brasília, DF, Brazil;
April 3-7 – Course on Access and use of scientific information for decision-making in health, and Scientific Communication and Writing Course at the facilities of PAHO Mexico, for 58 professionals from 14 federal health promotion agencies, Subsecretaría de Prevención y Promoción de la Salud, Centro Nacional de Excelencia Tecnológica en Salud, Centro de Documentación Institucional, Dirección General de Promoción de la Salud y del Instituto Nacional de Salud Pública de México, Mexico City, Mexico;
March 27-31 – Training for 22 professionals from the Instituto Nacional de Saúde, Ministério da Saúde de Moçambique, on the management of the Virtual Health Library (VHL) and its sources of information, as well as access to and use of scientific information in health, as part of the revival of VHL Mozambique, in Maputo, Mozambique.

In addition to these activities, BIREME was guest participant in many meetings, conferences and seminars in the field of health, presenting emerging topics in scientific communication:
November 29 – Lectures "The expansion of predatory journals" and "The management of journals: quality, innovation and perspectives" at the I Jornada Internacional de Pós-graduação em Enfermagem, in Ribeirão Preto, SP, Brazil;
November 28 – Lecture "Evaluation of journals and researchers by impact factor" at the 8th Symposium of Graduate Studies in Toxinology of the Instituto Butantan, in Sao Paulo, SP, Brazil;
November 25 – Lecture "Editorial News" during the course How to Prepare, Write, and Publish a Scientific Paper, promoted by the Sociedade Brasileira de Dermatologia, in Sao Paulo, SP, Brazil;
September 7 – Lecture "The management of journals in our days: quality and innovation" at the 69° Congresso Brasileiro de Enfermagem in Maceio, AL, Brazil;
August 4 – Lecture "How to identify projects with potential for dissemination?" to members of the Agrarian, Biological and Health Sciences Area of the Conselho Nacional de Desenvolvimento Científico e Tecnológico – CNPq, Brasilia, DF, Brazil;
June 23 – Lecture "The dissemination of science through social media" in the 25th Scientific Publishing Course of the Associação Brasileira de Editores Científicos; in São Paulo, SP, Brazil;
May 26 – Lecture "Peer evaluation in scientific publication: modalities, challenges and trends" for members of the Editorial Board of the Revista Paulista de Pediatria; Sao Paulo, SP, Brazil;
March 24 – Lecture "Quality publication at undergraduate and graduate levels in emerging and developing nations: strategies towards success" at the I Congresso Brasileiro da Associação Brasileira dos Editores Científicos de Psicologia in Sao Paulo, SP, Brazil.
The presence of BIREME professionals in courses and events in Brazil and the countries of the region reaffirms its leadership and active participation in the area of health information and scientific communication in health, which aim to strengthen and foster the dissemination of good quality results of scientific research by means of state-of-the-art information and knowledge methodologies and technologies.