BIREME, as a specialized center of the Pan American Health Organization/World Health Organization(PAHO/WHO) and the Knowledge Management Project of the area of Knowledge Management, Bioethics and Research (KBR/PAHO), under the management of PAHO/WHO Assistant Director, Dr. Francisco Becerra, work in close collaboration on themes of scientific communication in health, strengthening the  health publications of the Region, and building capacities to improve the quality and quantity of scientific reports, besides making them widely available to healthcare professionals, researchers, students, and decision makers.
In November 2016, Lilian Calò, Coordinator of Scientific Communication at BIREME, was at PAHO/WHO headquarters to participate in activities related to the strengthening of the Pan American Journal of Public Health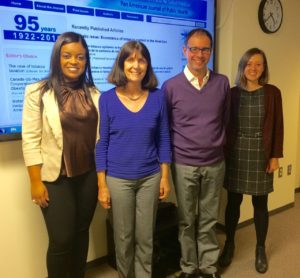 (PJPH), one of the main public health journals of the region. Many topics were addressed including a comparative report of the main impact indexes of PJPH and other prestigious Latin American public health journals, licenses and trends regarding Open Access (Creative Commons), the register of the Digital Object Identifier (DOI) and the presence of PJPH in the Directory of Open Access Journals (DOAJ).
As a result of this activity, Damián Vazquez, Editor-in-chief of PJPH, visited BIREME in April 2017 to discuss the creation of online courses on scientific communication. Both Dr. Vazquez and Dr. Calò have wide experience in teaching live courses on this theme. The demand for courses in Brazil as well as in other countries the Region has been frequent, and for this reason, both of them worked together to join efforts and knowledge in order to develop contents for self-learning courses. This phase counted on the contribution of Elisabeth Peres Biruel, Librarian of Cooperative Information Services at BIREME, and an expert in the design of distance courses.
The agenda of this visit also included a meeting with editors of São Paulo State public health journals. The meeting, held in BIREME, on Abril 20, 2017, was attended by the editors-in-chief of the following journals: Interface: Comunicação, Saúde, Educação, Prof. Dr. Antonio Python Cyrino; Revista Brasileira de Epidemiologia, Prof. Dr. Moisés Goldbaum and Prof. Dr. Marcia Furquim de Almeida; Revista de Saúde Pública, Prof. Dr. Leopoldo F. Antunes; and Saúde e Sociedade, Prof. Dr. Eunice Nakamura. Moreover, Dr. Damián Vazquez and Claudia Buchweitz, editor-in-chief and copy-editor of PJPH, respectively, took part.
The intent of the meeting was to discuss the advances and challenges of managing public health journals in Brazil and in Latin America, regarding topics such as peer review, editorial flow, plagiarism control, dissemination in social networks, and challenges in editorial management, among others.
After a brief presentation by the editors about the main challenges faced by their journals, a discussion took place, in which the participants tried to indicate feasible solutions that could facilitate their editorial and financial planning.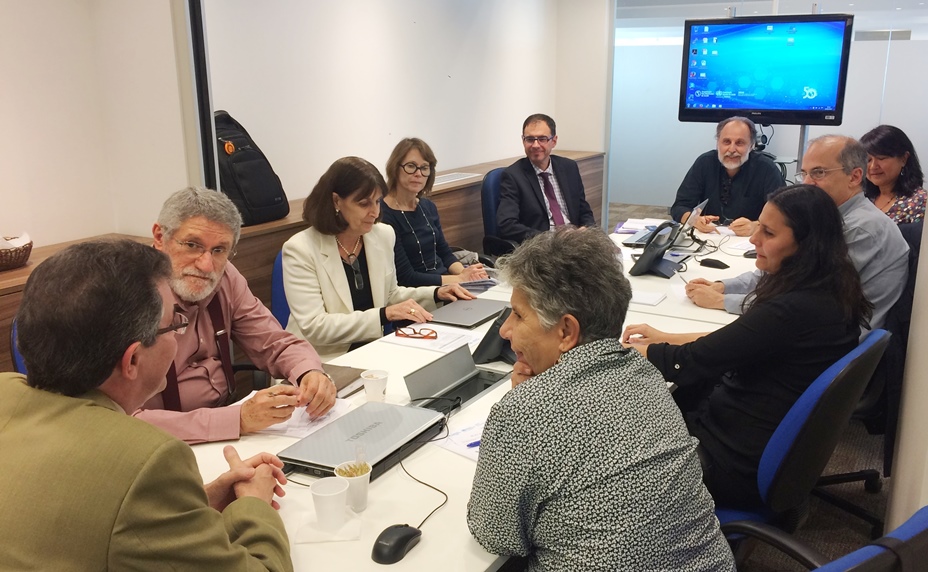 In a message sent to BIREME after the event, the editors Eunice Nakamura and Aurea M.Z. Ianni, from the journal "Saúde e Sociedade" said: "We would like to emphasize the importance of PAHO/WHO's initiative of mobilizing the editors to discuss the current situation of public health journals, the challenges and possibilities in the current scenario. We thank BIREME's team for the opportunity of taking part in this meeting".
According to Prof. Leopoldo F. Antunes, editor-in-chief of Revista de Saúde Pública, "The management and sustainability of public health scientific journals are facing enormous difficulties and challenges. Brazilian journals are run by researchers and professors who work as scientific editors, along with other teaching and research duties. The issue of scientific publications' funding, which has always been scarce in Brazil, has worsened recently, particularly for public health journals. Our journals have a tradition and importance dating back several decades. Overcoming the current difficulties and projecting the knowledge produced in our area are the main challenges that move the editors of public health journals in Brazil."
"One of the main challenges of Brazilian journals currently is sustainability. The lack of a State policy to access and disseminate scientific knowledge has made scientific journals's management a major challenge. Of the four journals present, all of which are open-access, two of them have been forced to levy APC fees and the other two have been studying such an alternative. It is important to notice that APC charging, although envisaged as an open access revenue alternative, was adopted as survival alternative. However, we know that it may represent a barrier to younger researchers or authors from non-consolidated centers, especially at a time of deep cuts in research funding in the country", states Prof. Antonio Pithon Cyrino, editor-in-chief of Interface: Comunicação, Saúde, Educação.
This meeting was important for PJPH to strengthen the bonds with other public health journals, in order to improve the scientific output in the Region and share experiences, lessons learned and best editorial practices.
Related News
BIREME develops scholarly communication courses (BIREME Bulletin n° 4)
Health Scholarly Communication in the Region (BIREME Bulletin n° 2)