The  Budapest Open Access Initiative Declaration (2002) is an effort to promote open access and free availability of scientific journals on the web, enabling any user to read, download, copy, distribute, print, search, or link to the full text of articles.
BIREME, in line with its mission to democratize access to information, knowledge, and evidence in health, has been working with its collaboration Network and editors of scientific journals to join the Budapest Initiative. In 2005, the Salvador Declaration stated that the Latin-American and Caribbean Network was joining the Open Access Movement, which was reflected in the update of the  Journal Selection and Permanence Criteria in LILACS database, where it says the journals indexed in LILACS should make the full text of their articles available in Open Access (2008).
In 2012, the Recommendation for Open Access and Online Content in LILACS was published. In 2013, the criterion started to be a requirement for Brazilian journals only, when BIREME facilitated the LILACS-Express system to editors in Brazil, enabling them to upload the full text of articles of their journals in LILACS database management system.
In 2016, BIREME developed a new feature to upload files integrated to LILACS new management system (FI-Admin). All journal editors can already use this feature to add full texts (PDF) of the articles, or to indicate the access link to them in LILACS. The deadline of May 31st, 2018 was defined for all editors of the journals indexed in LILACS to meet the Open Access availability criteria for their journal articles.
To help editors and LILACS Coordinating Centers, BIREME published a technical note and is offering the necessary guidance for journal editors to comply with the Budapest Declaration.
Open Access in LILACS
 LILACS is the Latin-American and Caribbean health literature index. It has been collaboratively developed and coordinated by BIREME for 32 years, with the support of the national Coordinating Centers. It has articles from 924 journals and other technical scientific documents, including non-conventional literature, such as theses and government documents of 26 countries of the LA&C Region, published as of 1982.
To the present, LILACS gathers approximately 800 thousand bibliographic records of which 390 thousand links to the full text, accounting for almost 50% of the entire database. However, if we consider the 162 thousand documents entered as of 2012, the date LILACS adopted the Budapest Declaration, we can find 150 thousand records linked to the full text, which accounts for 92% of LILACS database. And if we look only at records from 2016, the percentage increases to 97%.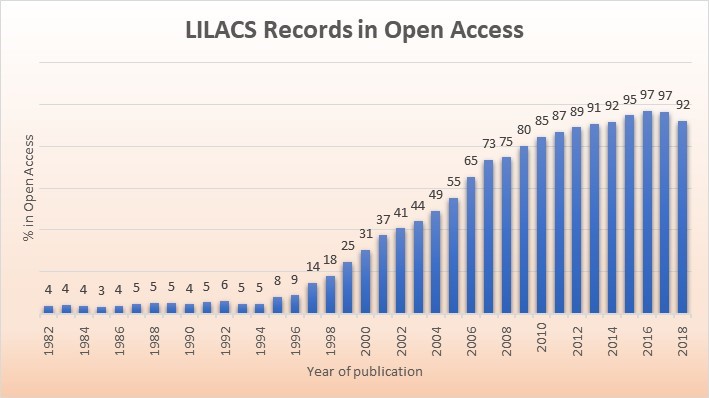 According to Sueli Mitiko Yano Suga, supervisor of Reference Sources of Information at BIREME, "these figures enable us to infer that LILACS succeeded in joining the Open Access initiative to information, knowledge and scientific and technical evidence. We reiterate our commitment to the quality of information that is indexed and to our function of providing visibility to the scientific production from Latin America and the Caribbean".
Links of interest:
Budapest Open Access Initiative
Declaration of Salvador in CRICS (2005)
Presentation of LILACS-Express Editor in FI-Admin for editors (May/2017)
Tutorial for editors on LILACS-Express: how to access and use the system
Access portal to LILACS database