BIREME was part of the group of PAHO officials who participated at Workday Rising 2018[1], the annual Workday user conference, the system used by the Pan American Sanitary Bureau Management Information System (PMIS). The event took place in Las Vegas, United States, on October 1-4, 2018. The team identified 12 key initiatives to improve and streamline the management of PMIS in various administrative processes that will be considered for implementation by the end of 2019.
Silvia de Valentin (ADM BIR) represented BIREME at this event, attending at four Keynote Presentations, nine learning sessions related to Finance, Human Resources, Information and Technology and one Adaptive Insights Hands-On Laboratory, a Workday Company.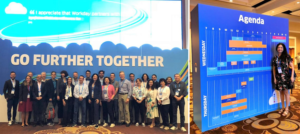 "Participating at Workday Rising 2018 was important to assess the ERP (External Relations, Partnerships and Resource Mobilization) system adopted by PAHO/WHO given the strengths of the Workday Cia., knowing the world community that contributes effectively with its developments and being aware of the methodological and technological updates. That motivates the most effective use of the PMIS at BIREME and it was also a great incentive to cooperate with business owners in PAHO/WHO and other colleagues at Country Offices in the development and implementation of current and new functionalities", emphasized Silvia[2].
The coordination and realization of the event also provided many lessons at institutional level for its program of presentations and activities, communication actions, logistics and local infrastructure and information technology that can be considered in the management of events in BIREME that is organizing the CRICS10 and VHL7 and on December 4-6 in São Paulo, Brazil.
The Workday Rising App was a highlighted tool for the effective participation into the entire event. Silvia also mentioned that Workday Surveys, Scorecards and Adaptive Insights Planning Solution are features/system could very interesting to BIREME/PAHO/WHO considering their support on institutional management and monitoring of the overall performance that is also important to strengthen the institutionality of the Center as emphasized by the members of its Governing Bodies (Advisor and Scientific Committees) and national institutional associates.
[1] Workday Rising 2018. Available at: http://www.workdayrising.com/us/
[2] Workday Rising ofrece 12 ideas para perfeccionar el PMIS. Available from: https://intra.paho.org/Pages/SpotlightArticles/Rising-2018-S.aspx