Contributing to the World Cancer Day, BIREME puts at your disposal information on the VHL that addresses this theme, the Virtual Health Library Cancer Prevention and Control.
The VHL in Cancer Prevention and Control is the result of a technical cooperation project between the Representation of the Pan American Health Organization in Brazil (PAHO Brazil) through the Latin American and Caribbean Center on Health Sciences Information (BIREME) and the José Alencar Gomes da Silva National Cancer Institute (INCA).
The VHL aims to facilitate access to relevant and quality information in the area, for the improvement of health professionals, researchers, and those interested in the subject. The information sources made available by the VHL in Cancer Prevention and Control aim to support health professionals and managers in decision-making processes, in the training process, and in the formulation of public policies.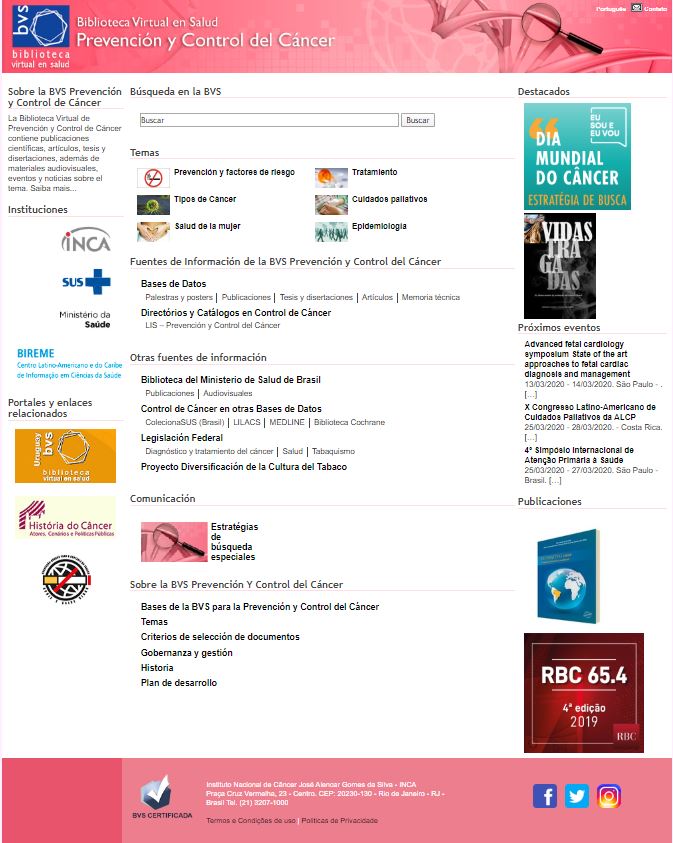 The databases of the Cancer Prevention and Control VHL primarily cover the Health Sciences Descriptors (DeCS) category C04 – Neoplasms, with emphasis on the aspect of cancer prevention and control. Such databases may include documents from related areas if they impact cancer prevention and control, such as environmental, behavioral, social, and cultural factors, physical predisposition and other risk factors for the occurrence of cancer.
The VHL databases include, primarily but not exclusively, documents by Latin American and Caribbean authors and/or those published in countries of this Region and those produced by the Pan American Health Organization, its Programs and Specialized Centers. Documents of extreme relevance to the field of cancer prevention and control produced by international agencies are also included.
The main information source of the VHL is the PrevCan Database, with approximately 1,500 bibliographic records, 60% of which are full-text documents. The database contains articles, theses and dissertations, monographs, and conference documents, among others. In addition, it showcases research on topics aligned with the national agenda on health research priorities. The available themes are: Prevention and Risk Factors, Types of Cancer, Women's Health, Treatment, Palliative Care and Epidemiology.
Moreover, to support information diffusion actions in the area, the VHL also uses social networks to disseminate information. For this, it has Facebook, Twitter and Instagram accounts.
More information on the World Cancer Day
World Cancer Day is celebrated each year on February 4th, with this year's theme being "I Am and I will", created by the Union for International Cancer Control (UICC), which aims to raise awareness individually and collectively for all people directly or indirectly involved with the disease worldwide and also to contribute to actions for prevention, reducing risk factors, increasing access to early diagnosis and adequate treatment, or activities of whatever nature that could reduce cancer's impact on society.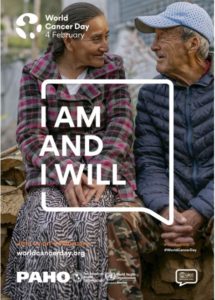 PAHO/WHO reports that many types of cancer – around 30-40% – can be prevented and controlled through the implementation evidence-based strategies for their prevention, detection, and early treatment. The main strategies adopted to reduce the incidence of contracting some types of cancer are the same used to prevent many non-communicable diseases like hypertension, diabetes, and cardiovascular diseases: no tobacco use, a diet rich in fruits and vegetables, low alcohol consumption, and being physically active. Some infections that can be prevented by vaccines – like hepatitis B that can cause liver cancer and HPV that causes cervical cancer, as well as being treated can be used as prophylactic measures. Other types such as breast and colorectal cancers have a greater chance of remission if detected and treated early. Read the WHO recommendations, published on World Cancer Day 2020 to save the seven million lives threatened by cancer.
Despite advances in research in the diagnosis and treatment of cancer, the disease is still the second leading cause of death in the Americas, with 3.8 million people diagnosed and 1.4 million people killed in 2018. The most common types of cancer among men are prostate (21.7%), lung (9.5%), colorectal (8%), bladder (4.6%), and stomach (2.9%) cancers. In women, those with the highest incidence are: breast (25.2%), lung (8.5%), colorectal (8.2%), thyroid (5.4%), and cervical (3.9%) cancers.
Links of interest:
Virtual Health Library in Cancer Prevention and Control (in Spanish)
National Cancer Institute – NIH
National Cancer Institute (INCA) (in Portuguese)
Cancer Foundation (in Portuguese)
World Health Organization. World Cancer Report: Cancer Research for Cancer Prevention. 2020. Edited by Wild CP, Weiderpass E, Stewart BW. Available at: http://publications.iarc.fr/586