World Cancer Day, celebrated on February 4, is an initiative that aims to prevent millions of deaths through raising awareness and educating the population about cancer, as well as pressing governments and individuals around the world to take effective action in the fight against the disease.
One out of every six deaths in the world is caused by some type of cancer, making the disease the second leading cause of death in the word, right behind cardiovascular diseases. Rises in population numbers and in life expectancy, especially in high income countries, indicate that the number of cancer cases tends to increase.
The National Cancer Institute of the United States (NIH) defines cancer as a group of diseases in which abnormal cells divide and invade nearby tissues. As the definition suggests, cancer can start in different parts of the body, originating different types of cancer and, in some cases, it may spread to other body parts through the circulatory and lymphatic systems.
The prevalence of cancer in the global population varies between 0.2 and 2%, according to the geographical region, which in turn depends on factors such as habits, lifestyle and the socioeconomic development levels of the given populations. When compared to the rest of the world, LA&C has low prevalence rates (between 0.24 and 0.85%). The types of cancer with the largest prevalence worldwide are: breast cancer, followed by colorectal cancer, prostate cancer, lung cancer, stomach cancer and cervical cancer.
World Cancer Day 2019 in the Americas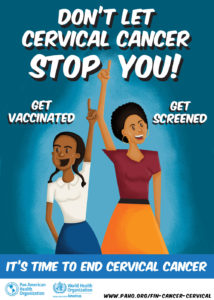 For World Cancer Day 2019, PAHO focused on the theme "Create a future without cervical cancer. The time to act is now".
In the Americas, cancer is also the second leading cause of death, being responsible for 1,3 million deaths and 3,7 million new cases in 2018. The number of cases should increase by 32%, reaching 5 million people by 2030, especially due to the aging of the population and to the epidemiological transition of Latin America and Caribbean population.
However, 40% of all cancer cases could be avoided by reducing risk factors, including tobacco use, excessive alcohol consumption, unhealthy diets and physical inactivity.
Vaccination programs, screening and monitoring are effective interventions for primary and secondary prevention of many types of cancer. Approximately 30% of cancer cases could be cured if detected early on and treated adequately, and all patients can benefit from palliative care.
In countries like Australia, where the vaccination coverage against the human papillomavirus (HPV) is high, a complete elimination of cervical cancer could be attained by 2028. In 2022, this type of cancer could be considered rare in the country, affecting a threshold of six new cases for every 100,000 women. England, whose vaccination campaign against HPV celebrated 10 years in 2018, has already reduced the incidence of the disease by 90%.
Brazil initiated vaccination against HPV in 2014, but low adhesion to the vaccine, rumors and fake news about probably reactions hinder the reduction of cases.
Cervical cancer is one of the most common types of cancer in LA&C, and its primary cause is HPV infection. Thus, vaccination against HPV and the screening of women to detect and treat pre-cancerous lesions can prevent cervical cancer. If detected early on, cervical cancer can be treated successfully through surgery, radiotherapy or chemotherapy.
Everyone's commitment
Information on HPV and exams to prevent and detect cervical cancer are fundamental for reducing the progression of the disease. The protection of women and girls can – and should – involve families and communities. Since the disease affects women at productive age, along with families, the economy of countries and regions is also affected. It is inadmissible that women perish from a disease that can be prevented and cured if diagnosed appropriately. Informing women on how to submit to periodic examinations and creating information networks among friends and family in order to disseminate these practices are simple yet largely effective measures. Partners, fathers, husbands and sons can encourage and support women to get tested, vaccinated and adopt other preventive measures against the disease. Fathers and guardians of teenage girls should encourage vaccination against HPV and not adopt attitudes of prejudice that create obstacles for enjoying this protection. Health professionals must be well informed about the causes and treatment options for cervical cancer. They must also be able to explain to patients the advantages of vaccination, screening and monitoring.
Consultation sources: PAHO/WHO, World Cancer Day, Page on Cervical Cancer of the WHO, Our World in Data/Cancer
Scientific and technical health information on cancer
The Cancer Prevention and Control VHL is a result of technical cooperation committed to the promotion of production and decentralized operation of knowledge in the field of cancer prevention and control. It is an initiative of the Brazilian Ministry of Health, through the Instituto Nacional do Câncer – National Cancer Institute – INCA, and PAHO/WHO, through the Latin American and Caribbean Center for Health Sciences Information (BIREME).
The initiative promotes a converging of scientific and technical literature, favoring the dissemination of knowledge by adopting and interdisciplinary approach among related areas. This strategy encourages the collection of a large part of national and international material produced on the topic, which in turn strengthens the social commitment with the scientific community and allows for complete, universal and free access to all knowledge generated in its databases. The Cancer Prevention and Control VHL was inaugurated in November 2012, and since then it has been playing an essential role of facilitating access to pertinent and quality information on the topic and of creating a strategic space for discussion and for the improvement of professionals and other people interested in the topic.
BIREME/PAHO/WHO has selected documents from the Virtual Health Library on the themes of the World Cancer Day 2019 campaign for the Americas.
Links of interest
BVS Prevención y Control del Cáncer (in Spanish)
Instituto Nacional do Cancer – INCA Brazil (in Portuguese)
Brazilian Cancer Foundation (in Portuguese)