BIREME maintains a long-standing technical cooperation relationship with the Oswaldo Cruz Foundation (Fiocruz), which has enabled the development of numerous events, products, and projects in information and knowledge management. This partnership is present in the daily lives of both institutions, specifically in activities of technological and methodological support provided by BIREME for the collection of instances of the Virtual Health Library managed by the Foundation.
Fiocruz, which is linked to the Ministry of Health, celebrated 120 years of existence in June 2020, and is among the most outstanding research, science, and technology institutions in Latin America. A few days ago, President Nisia Trindade Lima was reappointed for another term at the head of the Foundation, which plays an even more relevant role in terms of health in facing the Covid-19 pandemic in the country (to know more about the scientific trajectory of Nisia Trindade Lima, go to https://portal.fiocruz.br/nisia-trindade-de-lima).

In 2020, technical cooperation between BIREME and Fiocruz translates into actions to support products and services such as:
Participation in VHL consultative and executive committee meetings coordinated by Fiocruz;
Technical and methodological assistance and support for updating the technological platform. In 2020, work was carried out with the VHL Integrality, in addition to the restructuring of the information architecture of the portal;
Support in organizing the VHL Integrality meeting at the 20-year celebration Seminar of the Research Laboratory on Health Integrality Practices (LAPPIS) and participation by the BIREME team;
Change in the frequency of harvesting the instances (Infectious and Parasitic Diseases, VHL Fiocruz, and VHL Indigenous Peoples' Health);
Technical and methodological support for the development of activities related to the VHL instances developed and coordinated by Fiocruz;
Regular operation of data collection, processing, and publication in the research interface developed by BIREME for the following VHL instances of the Foundation: VHL Fiocruz; VHL Breastfeeding; VHL Infectious and Parasitic Diseases; VHL Professional Education in Health; VHL Polytechnic Education in Health; VHL Health Integrality; VHL Social Thinking; VHL Indigenous Health; and VHL Violence and Health.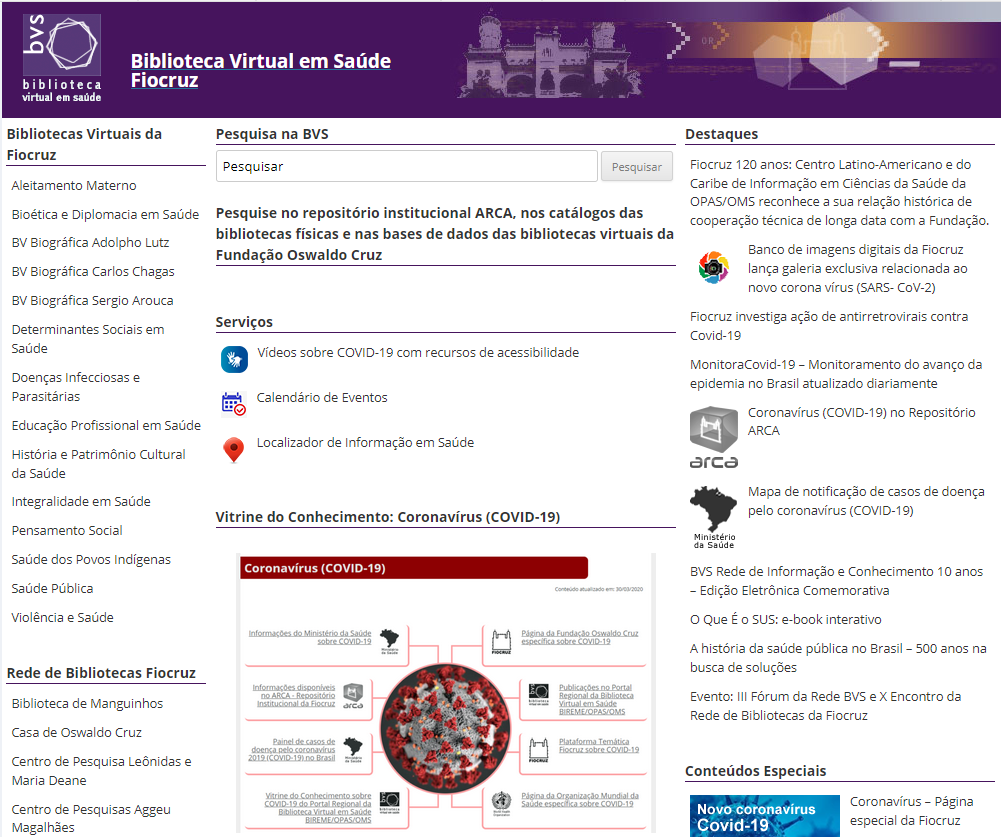 In 2020, BIREME and Fiocruz, through their Vice Presidency of Education, Information and Communication (VPEIC) and the Institute of Scientific and Technological Communication and Information in Health (ICICT), agreed on a project proposal in the area of information and scientific evidence in health and open science.
The project consists of five thematic axes, namely (i) Information Management; (ii) Knowledge Translation; (iii) Open Educational Courses and Resources; (iv) Scientific Communication; and (v) Institutional Communication, and its main objective is to strengthen technical cooperation actions between institutions.
Fiocruz counts on the Virtual Health Library network and the databases that integrate its information sources to disseminate, as well as other networks, its EDUCARE Educational Resources Platform[1], an ecosystem of educational resources created by the Foundation.
Through technical cooperation initiatives like these and many others[2], Fiocruz and BIREME continue a partnership that began many years ago, resulting in products and services for the scientific community and society.
[1] EDUCARE Portal Fiocruz – Ecosystem of Digital Educational Resources at Fiocruz. Available from: https://portal.fiocruz.br/video/educare-ecossistema-digital-educacional-da-fiocruz
[2] BIREME Bulletin. Fiocruz 120 years: BIREME recognizes joint developments. Available from: https://boletin.bireme.org/en/2020/06/01/fiocruz-120-years-bireme-recognizes-joint-developments/