Expansion, strengthening, and training actions in the scope of Brazil and Latin America are on the agenda of the Reference Network – RefNet in 2021. The calendars are already available on the RefNet page.
RefNet aims to promote cooperation between librarians in the VHL network, universities, research centers, hospitals, and health organizations and also autonomous, through the development of search strategies that can be reused, shared, and adapted to the health context , and that have the VHL Search Strategies Repository as an information source.
According to Rosemeire Pinto, supervisor of the Customer Service and Training area, "the RefNet employee has a Repository to document and give visibility to their work and that of their institution; their time is optimized in the elaboration and adaptation of strategies, and they also contribute to institutional scientific production; in turn, researchers who reuse these strategies in scientific and technical work have a source of information with a range of evidence filters to inform health decisions, among others".
Training for network participants is offered virtually on a regular basis, considering the instruments and techniques for developing search strategies and actions that can foster new ways to improve RefNet's performance and autonomy, using new methodologies and tools.
The topics to be worked on in 2021 will be released in March, and there is already a calendar for meetings in Portuguese and Spanish.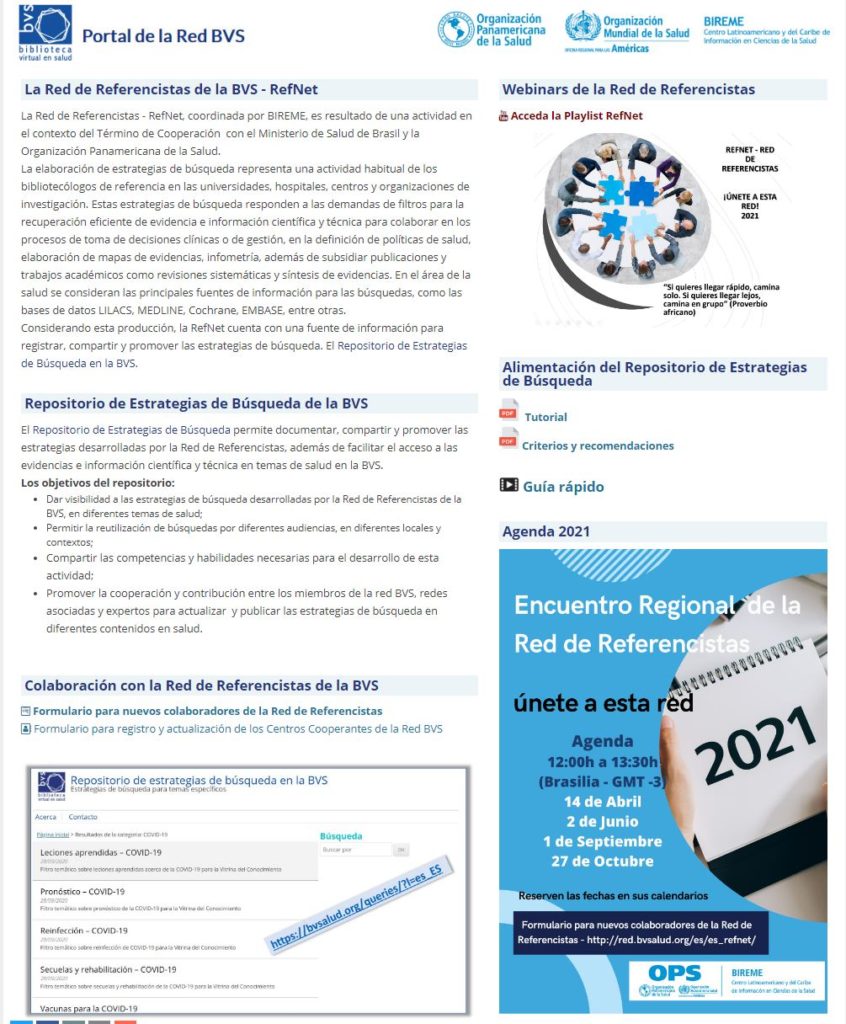 On March 2nd, a "Conversation with the network" was held in Spanish. The purpose of this conversation was to present the actions planned for 2021, share some tools to start the cooperation with RefNet, and answer questions about participation and collaboration.
The launch of RefNet for Latin American countries took place at the end of 2020 and has as an example the experience developed in Brazil within the framework of a Cooperation Agreement between Brazil's Ministry of Health and the Pan American Health Organization.
The Brazilian network already has more than 90 employees who contributed, in 2020, with the publication and review of about 200 search strategies available in the Search Strategies Repository on priority topics considering the objectives of Sustainable Development Goal 3 (ODS3), Neglected Diseases and COVID-19, among others.
Not yet a member? Learn more about RefNet on the network's website.