The Cultura e Saúde exhibit, an exhibition designed and executed by the Centro Cultural do Ministério da Saúde (CCMS) of the General Coordination of Documentation and Information (CGDI), made possible with support from BIREME/PAHO/WHO, was inaugurated on August 3rd and will be open for the next three months in the tunnel between the Headquarters and Annex buildings of the Ministry of Health, in Brasília/DF.
The objective is to show and reveal the relationship between the concepts of culture and health, creating a playful and immersive atmosphere through reproductions of famous paintings, historical facts, scenic objects, texts about local projects, among other elements. Visitors are invited to understand how artists portray diseases and the concept of health throughout history, and how art came to be used as a tool for inclusion and medical treatment.
The exhibition is separated into three modules. The first, called "Arts", shows how health, disease, the body, healing, and the promotion of quality of life have been thought of and represented by artists since ancient Greece. The second, "Reflections", presents the work of some Brazilian health institutions that carry out research and treatment in mental health using artistic processes, in addition to inviting the public to try looking at themselves and the world in a different way, using mirrors.
Finally, the "Networks" module brings actions and projects from across the country that make use of cultural, artistic, educational, and recreational elements to deal with health. There is also the possibility of interaction and online access to extra content, such as publications from the Ministry of Health's Virtual Health Library (BVS MS), through QR Codes present throughout the exhibition, in addition to materials from the breastfeeding campaigns.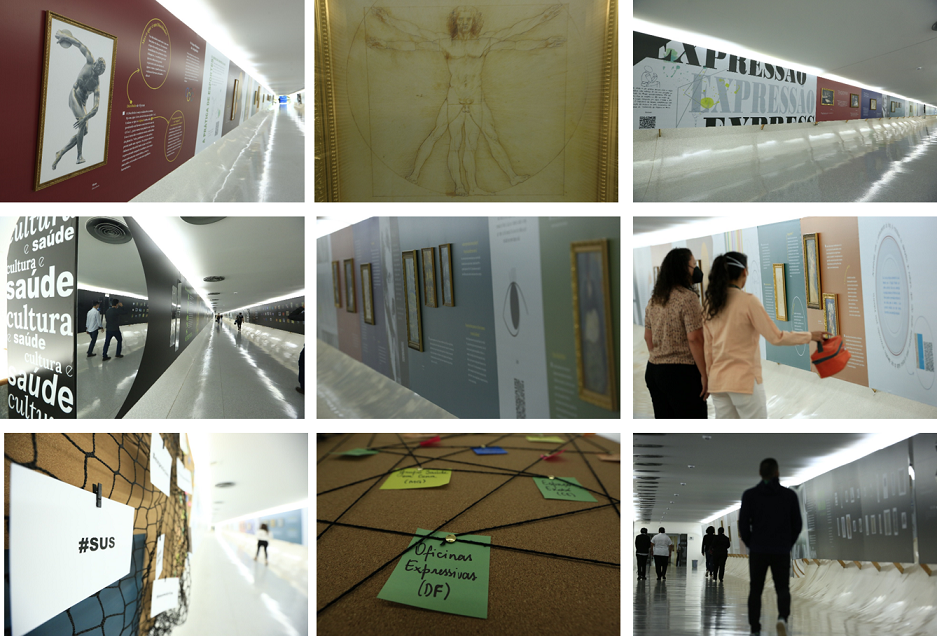 All contents that integrate the Exhibit are registered in the VHL MS, which in August 2021 completes 20 years of operation and is celebrating the launch of a renewed portal. The content of the Exhibition also contributes to the enrichment of the VHL MS, that is, its collection of information sources.
"Consolidating a transit space as an opportunity for the dissemination of health information, a showcase of initiatives and results, is very important for the CGDI", says Soraya Zacarias, General Coordinator of Documentation and Information, who complements: "the management of knowledge can also be light, playful, innovative; it can extrapolate manualization and become art. And that's exactly what we're doing here."
BIREME/PAHO/WHO, in the context of the Cooperation Term 95 (TC95) between the MS and PAHO Brazil, cooperated with the implementation, specifically in the provision of local infrastructure as described in the terms of reference of the exhibition to promote the dissemination of information in health for society, cooperating with the democratization of knowledge in public health in Brazil.
Learn more about the exhibition
SAA Informa. Information channel of the Secretariat of Administrative Affairs. Culture and Health exhibition opens. Available at: https://saainforma.bvsalud.org/inaugurada-a-exposicao-cultura-saude/
Centro Cultural do Ministério da Saúde. See the photos of the Culture and Health Exhibition. 9 August 2021. Available at:  http://www.ccms.saude.gov.br/noticias/confira-fotos-da-exposicao-cultura-saude