Between November 14th and 24th, the Instituto Nacional de Saúde, Coordinating Institution of the Mozambique Health Documentation Network (RDSM), held the Data Insertion and Validation Workshop on the Virtual Health Library (BVS) Mozambique platform.
The objective of the workshop was to provide the professionals of the VHL cooperating institutions' libraries with knowledge that allows them to:
Update the Mozambique VHL portal, with information/health documents, integrating other health information sources;
Treat and enter information/documents received from healthcare institutions into the VHL portal and the RDSM database;
Carry out the bibliographic description and index the documents in the RDSM database with significant technical and scientific content, produced by educational institutions, scientific societies, governmental and non-governmental organizations recognized in the area, of national interest; and
Conduct the quality control of the scanned data.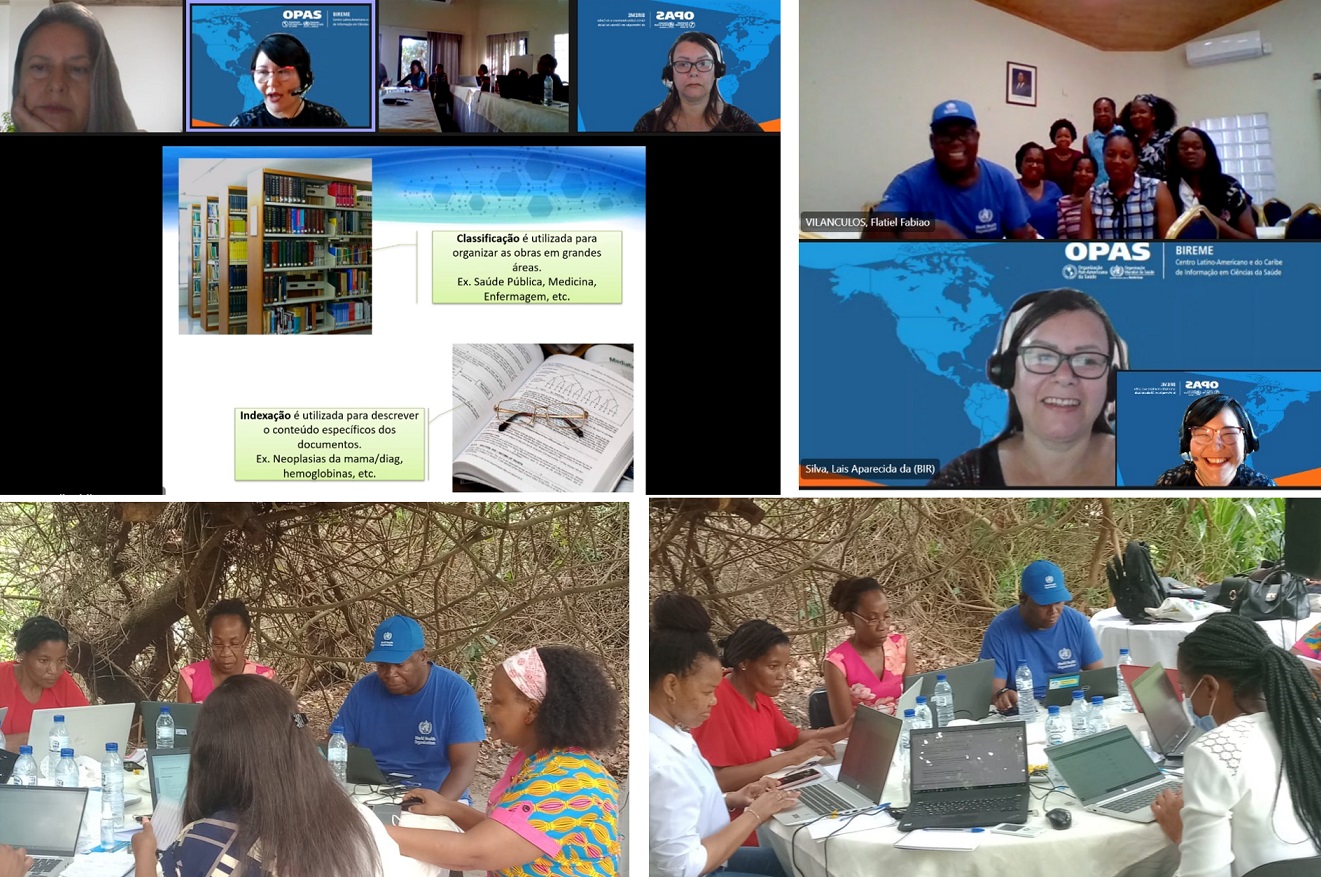 Representatives of the Instituto Nacional de Saúde/Biblioteca Nacional de Saúde; Instituto Superior de Ciências de Saúde (ISCISA); Instituto de Ciências de Saúde de Maputo (ICSM); and of the Universidade Eduardo Mondlane – Faculdades de Medicina participated in the workshop.
Bireme participated in the workshop on November 23rd, with the aim of highlighting the importance and need for networking and the development of local capacities and sharing general feedback of the work developed during the workshop, in terms of the quality of description and indexing of registered documents.
The workshop was considered successful, since it reached the mark of more than one thousand publications registered in the national database and which must undergo quality control by the coordination team and members of the Mozambique Network. There are 784 published documents and 254 records in creation, adding 1,038 documents that will be available for search in the VHL Mozambique.

The documentation related to the revision and correction of the bibliographic records is available.
Background:
Mozambique maintains technical cooperation actions with BIREME since 2005 with the beginning of the ePORTUGUÊSe network and in the context of South-South Health Cooperation, which focuses on the Portuguese-speaking countries. Between 2007 and 2015, there were numerous events such as the ePORTUGUÊSe Seminar, training for countries such as Angola, Cape Verde, Guinea-Bissau, Mozambique, São Tomé and Príncipe, and Timor-Leste. The ePORTUGUÊSe initiative was closed in 2015, but the VHL instances and collaborative space continued to be consulted, with almost 800,000 accesses computed in 2017. That same year, in April, BIREME resumed cooperation actions and sent a training mission for members of the Health Documentation Network. In 2019, a new official mission occurred and since then the national database was created and followed up monthly by BIREME. In addition, members of the Mozambique Network have participated in the regional empowerment that BIREME offers to its network.
Related material
Workshop on data insertion and validation on the Virtual Health Library-Mozambique (VHL) platform. Available at: https://lilacs.bvsalud.org/bvs-mocambique-rede-de-documentacao-sobre-saude-em-mocambique-rdsm/
Mozambique strengthens its health information management with the support of BIREME. BIREME Bulletin n. 34, July 2019. Available at: https://boletin.bireme.org/en/2019/07/27/mozambique-strengthens-its-health-information-management-with-the-support-of-bireme/
VHL Mozambique: BIREME organizes a training workshop in Maputo. BIREME Bulletin n. 7, April 2017. Available at: https://boletin.bireme.org/en/2017/04/28/vhl-mozambique-bireme-organizes-a-training-workshop-to-reactivate-vhl-mozambique-in-maputo/