In 2021, the VHL Network established its priorities through an Action Plan aimed at strengthening networking within the VHL network, following the model applied in the previous year.
The activities of the plan are based on the three pillars of the VHL (Institutions, Content, and Users), as well as the levels of maturity of the VHL instances. In total, 43 VHL instances will apply the maturity instrument and of these, 40 will adhere to the 2021 action plan.
The VHL instances were guided to select and prioritize the activities according to their needs and carried them out per quarter, starting in March and ending in November 2021. During this period, 161 separate meetings were held with the network instances to support the actions, along with 12 general follow up meetings, six for the VHL Brazil Network and six for the VHL Network of Latin American countries (in Spanish).
The following results are highlighted:
Update of 11 VHL instance portals, which underwent reformulation of information architecture, review and organization of content, update of the technological platform and layout;
Creation of ten new bibliographic databases in the FI-Admin system;
Migration of six bibliographic databases and one legislation database from the old indexing system to the new one (FI-Admin);
Review, update, and development of selection criteria for ten bibliographic databases;
Other user services activities, updating thematic areas, updating the research interface, strengthening the collaboration network, revising the responsibility matrix, etc.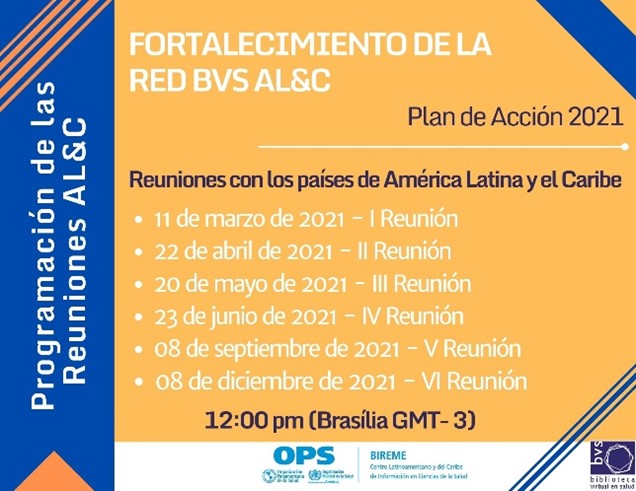 In December, two meetings were held for the closure of the action plan (Brazil, Latin American countries), to present the results achieved and map the perspectives for 2022.
All Action Plan documentation, recording of meetings, presentations, reports, and results are available on the VHL Network portal in Portuguese and Spanish.
What do we expect for 2022?
Strengthening networking in the VHL will continue to be a priority for BIREME/PAHO/WHO and for all countries and institutions that work in the VHL, whether in their own VHL instances or in one or more VHL information source or service. The commitment and collaboration of the Institutions and of the information and health professionals that make up the Network are the main pillar for the VHL.
For 2022, BIREME/PAHO/WHO is proposing an integrated calendar with weekly meetings for the entire Network (VHL, LILACS, Reference network, Indexers, Scientific Editors), addressing topics relevant to the development and strengthening of the VHL Network's work, seeking to promote the exchange of experiences, the training of professionals, and the continuous development of VHL health information products and services.
Furthermore, in order to monitor the development of each VHL Network in countries and in thematic areas, based on the application of the VHL Maturity Instrument, needs and priorities will be identified to then define the action plan for each VHL Instance. Individual follow-up meetings will be held as needed by the Network.
Related news
VHL Maturity Instrument: a tool at the service of the continuous improvement of VHL instances. BIREME Bulletin n° 57. July 2021. Available from: https://boletin.bireme.org/en/2021/07/04/vhl-maturity-instrument-a-tool-at-the-service-of-the-continuous-improvement-of-vhl-instances/