Climate change is the biggest threat to global health of the 21st century. Health is and will be affected by climate change through direct impacts (heat waves, droughts, severe storms, and sea level rise) and indirect impacts (respiratory and vector-borne diseases, food and water insecurity, malnutrition and forced displacement).
The Pan American Health Organization/World Health Organization (PAHO/WHO) Climate Change and Health Program seeks to prepare health systems through early warning, better planning and implementation of prevention and adaptation measures, and also through the reduction of the emission of gasses that cause climate change with other sectors.
Led by the United Nations Environment Program (UNEP), celebrated every June 5th since 1973, World Environment Day is the largest global dissemination platform for environmental issues and is celebrated by millions of people around the world. Each year it is sponsored by a different country, and in 2022 the host and organizer was Sweden.
The motto "OneEarth" is a slogan with great symbolism, since it was used at the first Stockholm Conference in 1972, an event that put the environment on the global agenda and led to the establishment of World Environment Day. Fifty years later, Sweden hosted Stockholm+50 from June 2nd to 3rd and World Environment Day on June 5th.
The future is today
Climate change is not just a problem for future generations, it is already happening. Higher average temperatures are recorded each year and more people are affected by disasters, weather-sensitive diseases, and other health conditions.
Climate change accentuates some health threats and creates new public health challenges. Worldwide, looking at just a few health indicators, an additional 250,000 deaths a year will occur in the coming decades as a result of climate change.
The health sector has an important role to play in reducing the greenhouse gas emissions that are the cause of climate change. Investments must be made in "green" healthcare facilities, using solar panels, energy efficient equipment, and waste management. Globally, only about 0.5% of multilateral climate funding has been allocated to health projects.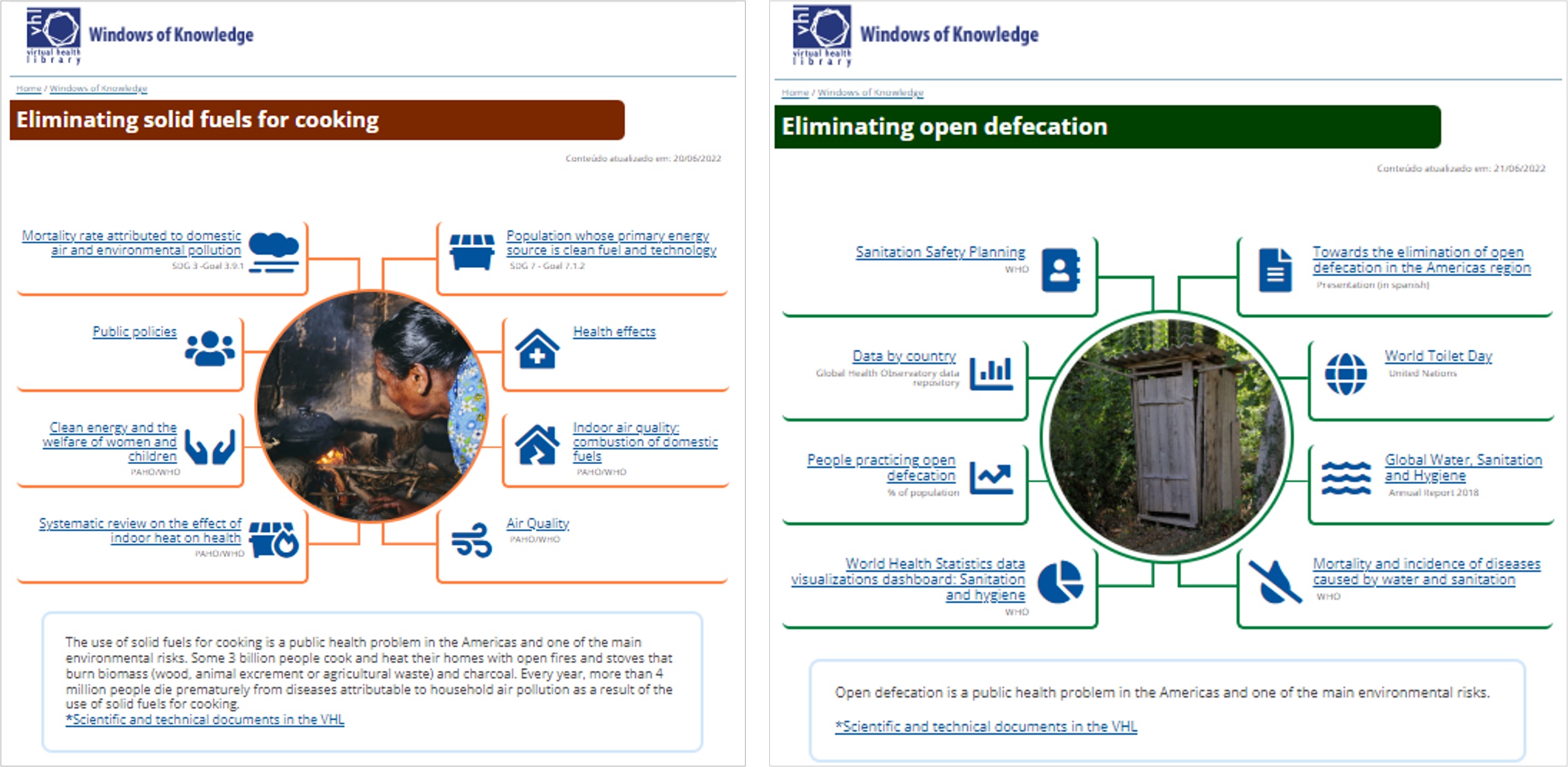 Health facilities also need to be safe and operational during and after any disasters. In the Americas, 67% of health facilities are located in disaster-prone areas. In the last decade, 24 million people were without access to healthcare for months due to infrastructure damage.
BIREME, with the support of PAHO/WHO, develops information sources in several areas that influence the environmental determinants of health, such as air and water pollution, communicable diseases, and diseases caused by a lack of basic sanitation.
Window of Knowledge Eliminating Solid Fuels for Cooking: https://bvsalud.org/vitrinas/en/post_vitrines/eliminating-solid-fuels-for-cooking/
Window of Knowledge Eliminating Open Defecation: https://bvsalud.org/vitrinas/en/post_vitrines/eliminating-open-defecation/
Documents in the VHL on Water, Sanitation and Hygiene on the Window of Knowledge Neglected Infectious Diseases
Links of interest
World Environment Day 2022 – https://www.un.org/en/observances/environment-day
Video #OnlyOneEarth – available at: https://www.youtube.com/watch?v=_CIPLOajR58&t=2s
PAHO/WHO. Climate Change and Health. https://www.paho.org/en/topics/climate-change-and-health
PAHO/WHO. Environmental Determinants of Health. https://www.paho.org/en/topics/environmental-determinants-health
PAHO/WHO. Facts Sheet. How climate change affects human health