The inequalities which perpetuate the AIDS pandemic are not inevitable; we can tackle them. This World AIDS Day, 1 December, UNAIDS[1] – Joint United Nations Program on HIV/AIDS (HIV is the acronym of human immunodeficiency virus) which is supported by PAHO – is urging each of us to address the inequalities which are holding back progress in ending AIDS.
The "Equalize" slogan is a call to action. It is a prompt for all of us to work for the proven practical actions needed to address inequalities and help end AIDS. These include:
Increase availability, quality, and suitability of services, for HIV treatment, testing and prevention, so that everyone is well-served.
Reform laws, policies, and practices to tackle the stigma and exclusion faced by people living with HIV and by key and marginalized populations, so that everyone is shown respect and is welcomed.
Ensure the sharing of technology to enable equal access to the best HIV science, between communities and between the Global South and North.
Communities will be able to make use of and adapt the "Equalize" message to highlight the particular inequalities they face and to press for the actions needed to address them
Since the beginning of the HIV epidemic, the Region of the Americas has contributed with a public health and human rights approach to the global response to HIV. In September 2016, Member States of the Pan American Health Organization (PAHO) approved the Plan of Action for the Prevention and Control of HIV and Sexually Transmitted Infections 2016 -2021. This Plan aims to promote an accelerated, focused, more effective, innovative, and sustainable response, paving the way towards the goal of ending the epidemics of AIDS and STIs as public health problems in the Region of the Americas by 2030.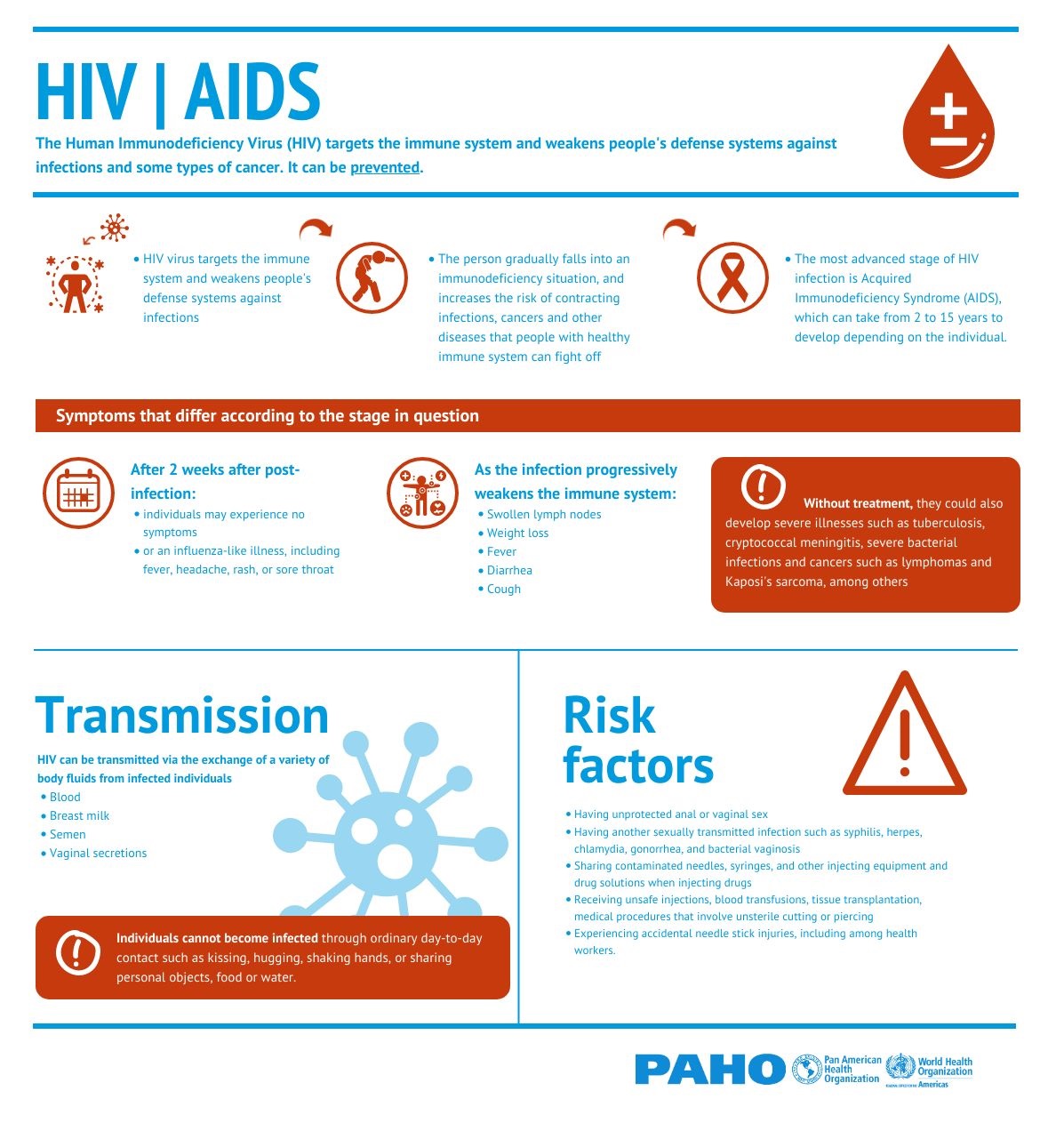 Increased vulnerability to HIV is often associated with legal and social factors, which increase exposure to risk situations and create barriers to accessing effective, quality, and affordable prevention, testing and treatment services.
HIV can be diagnosed using rapid diagnostic tests that can provide same-day results. The rapid test and self-tests made diagnosis and linkage to treatment and care much easier. There is no cure for HIV infection. However, effective antiretroviral drugs can control the virus and help prevent transmission to others.
At the end of 2019, around 81% of people living with HIV worldwide were aware of their condition; 67% were receiving antiretroviral therapy and 59% had achieved viral suppression with no risk of infecting others. At the end of 2019, 25.4 million people were accessing antiretroviral therapy worldwide. Between 2000 and 2019, new HIV infections dropped by 39% and HIV-related deaths dropped by 51%, with 15.3 million lives saved thanks to antiretroviral therapy. This achievement was the result of major efforts by national HIV programs supported by civil society and international development partners.
Window of Knowledge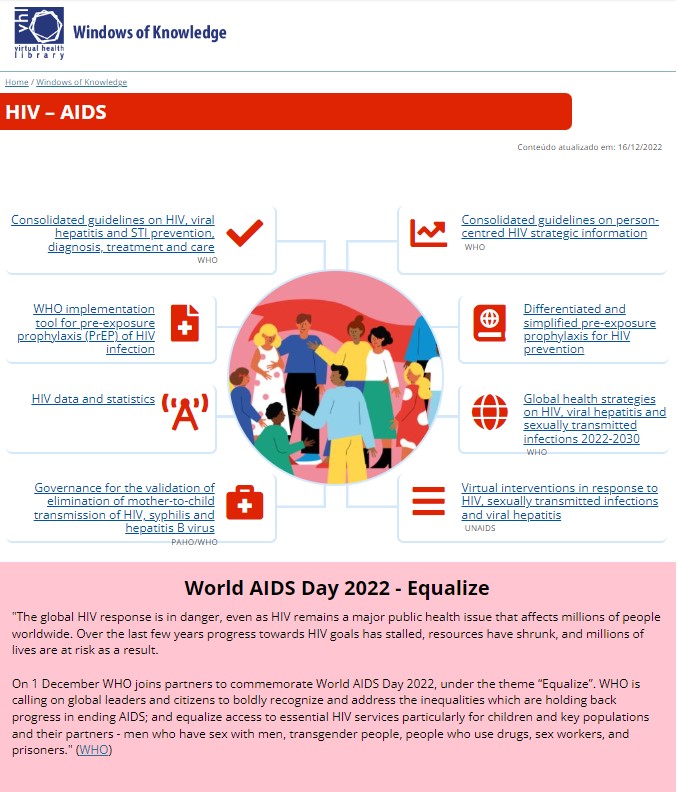 BIREME/PAHO/WHO, in fulfilling its mission of providing scientific and technical information on health, created the Window of Knowledge HIV-AIDS , which includes information for health professionals, researchers, policy makers, students of health careers and the general population about HIV-AIDS. It is periodically updated to include the latest scientific articles, documents, publications by international organizations and scientific societies on this communicable disease that affects millions of people in the Region of the Americas.
Links of interest
PAHO webpage on HIV-AIDS: https://www.paho.org/en/topics/hivaids  (this page contains numerous subtopics and links)
UNAIDS – World AIDS Day 2022 – https://www.unaids.org/en/2022-world-aids-day
WHO: Data and figures on HIV-AIDS: https://www.who.int/news-room/fact-sheets/detail/hiv-aids
WHO: Frequently asked questions about HIV-AIDS: https://www.who.int/news-room/questions-and-answers/item/hiv-aids
PAHO – Antiretroviral Therapy: https://www.paho.org/en/topics/antiretroviral-therapy
PAHO – Diagnosis: https://www.paho.org/en/topics/hiv-testing-services
Window of Knowledge HIV-AIDS: https://bvsalud.org/vitrinas/en/post_vitrines/aids/
[1]UNAIDS leads the global effort to end the AIDS epidemic as a public health threat by 2030, as part of the Sustainable Development Goals. PAHO is a co-sponsor of this program. Learn more at https://www.unaids.org/